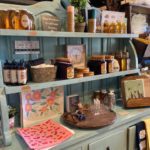 The Christmas season is upon us. And, no doubt, you'll be dashing to find the perfect gifts for friends and family. To find something extra special, think beyond the mall and online retailers and shop local. Many farmers markets as well as small businesses, like Lucy's Little Red Wagon, are open during the holiday season. These markets sell a variety of local produce, meats, cheeses, honey, baked goods, gifts and more for everyone on your list.
Owner of Lucy's Little Red Wagon in Union Bridge, Lucy Staley began her retail venture after recognizing a need in her area. "We live in a very small town, and unfortunately don't have a grocery store. We have one discount retail store, but it doesn't sell fresh produce," she says. "I'm a stay-at-home mom and farmer's wife and knew we had the resources to do something about it." She and her husband, Evan, who are in the process of purchasing his 400-acre family farm, grow corn, soybeans, hay, wheat, barley and sweet corn. They also have nearly 30 head of cattle and a small hog operation.
"We had old running gear laying around the farm, and I sweet talked my hubby into building a produce wagon for me. I parked it out front of our town's hardware store, which ended up going out of business," Lucy says. "The new owners of the building decided to turn it into a brewery. They thought it would be super cool to include a marketplace inside and offered me the space."
Lucy is proud of the bounty of local foods that she offers as well as locally crafted jewelry, soy candles, sheep-milk based soaps and lotions, and other unique items. "I have a mixture of a market and a boutique, so it's always fun adding new things from local sources. I've worked with a local candlemaker for over a year now and customers just can't get enough of her candles. The fir scented ones fly off the shelves," Lucy says. "Honestly, I go for things that interest myself or I know people would love to try."
The store also carries meats from their family farm. "One of the greatest things about the store is having an outlet to sell our beef and pork. I sell a lot of fun fancy meats, such as bacon cheddar burgers, stuffed pork chops, a variety of sausage flavors and beef sticks, which make great gifts," she adds.
Shopping local this holiday season also helps build a strong community. "Because of my store, I'm able to employ three people. Also, I have a dozen local moms I work with buying their products and they're able to help support their own families," Lucy says. "I still have that pinch me feeling every time I walk in the store. I'm so appreciative of this amazing opportunity!"
Discover more local markets in Maryland that are sure to have that special gift to finish off your Christmas shopping list while boosting your local economy.
Hungry for more? Read about other gift ideas for beer and wine. Learn more about cheesemaking and make your own presents. Add Maryland oysters to your holiday table.
Sign up for our newsletter and find us on Facebook, Twitter and Instagram.