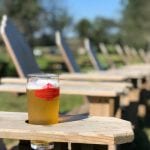 (LAYTONSVILLE, MARYLAND) – September 2019 – About 80 horses call the scenic pastures of Waredaca Farm in Montgomery County home. It's an expansive equestrian facility that features horseback riding lessons, training and trails to ride on 230 acres owned by the Butts family since 1932. Yet, there is more to this picturesque scene than meets the eye. About 10 years ago, descendants of the original owner R. Beecher Butts, decided to look beyond the equestrian side of the farm, and added an on-farm brewery to this family operation. They are evolving this family farm that began with a much different intention.
In the early 1930s, the farm was a camp for boys who were looking for a "rural" escape from Washington, D.C. By the '50s, it transitioned into a co-educational residential camp. The farm slowly moved away from camp life to become an equestrian farm. In 2010, the Waredaca Farm became a certified agricultural conservation steward through a program by the Maryland Association of Soil Conservation Districts. This program, called the Farm Stewardship Certification and Assessment Program (FSCAP), acknowledges farmers who are good stewards of their natural resources and encourages and rewards farmers to put more conservation best management practices on the land.
This was the catalyst to come up with new ideas for this bucolic farm. "The third generation of the farm, which includes me and five other family members, were asked by the second generation, who run the equestrian side, to bring something new to the farm," said Jessica Snyder, manager of the brewery and owner of Waredaca Brewing Company. "Expanding the farm wasn't something that we had been planning, but we were tasked with exploring opportunities. And, for us it was an easy choice to suggest a farm brewery, because we already had an existing building we could use, a professional brewer in the family, and the land to grow products to include in the beer."
Waredaca Farm now grows botanicals and herbs for the beer-making side of their business. Jessica says that they grow hops, small batch berries, watermelon and vegetables, like jalapeno peppers and cucumbers. It's designated as a Class 8 farm brewery, which means they can brew, sell and serve beer on their farm.
"We also grow the lemon verbena that is used in our flagship beer, Beecher IPA, that's named after our grandfather," Jessica said. "As farmers, we are in a unique position to work around the equestrian part of our farm and grow some pretty interesting flavor additions that support our brewery. But, we are limited to growing things that don't take a lot of land. For instance, barley takes up too much room and we need to outsource it."
She says her first stop for outsourcing is other farms located in the agricultural reserve that participate in FSCAP within Montgomery County. Then, she'll widen her search throughout Maryland. By doing this, she knows that the farmer's existing nutrient management plan, soil conservation and water quality plan have been evaluated by FSCAP to meet their standards of certification. "Sometimes if we can't grow enough produce like black berries or watermelon, we'll source from local farmers," Jessica said.
Now, just beyond the horse barns and training circles, people are visiting the farm for another reason — a family farm brewery with Maryland flavor.
Hungry for more? Sign up for our newsletter and find us on Facebook, Twitter and Instagram.