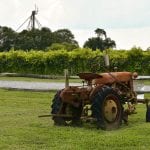 Over the past two decades, wineries have been popping up in every region of Maryland. The number of wineries has grown from just 10 to over 100 since 2000. And, these wineries are not only producing a delicious product, they have dedicated the month of March to the industry, made a $200 million impact on the economy, and created thousands of jobs.
This includes Layton's Chance Vineyard and Winery in Vienna, Maryland. Yet, the winery, founded in 2010, has a heritage deeper than the vineyard's roots — it's located on land that has been home to the Layton family since 1948.
"When my grandfather started the farm, we were growing sweet corn, tomatoes for canning, and field corn," William Layton says. "He also had a herd of beef cattle, and a few dairy cattle. Gradually the farm transitioned to corn, soybeans and wheat, which is what we still grow today. My grandfather started with about 250 acres. Today, we are at 1,300 acres."
About a decade ago, the farm diversified to include 14 acres for the winery business. Two generations of the Layton family help operate the winery, William and his wife Jennifer, and William's parents Joe and Laura.
"We needed a crop that brought in more dollars on less acres. We were also interested in getting into a value-added crop," William says. "Wine gave us the chance to diversify our crops, to add value to our crops, to deal directly with our customers, and to have a lot more flexibility in the future in keeping and bringing family members into the operation."
An assortment of grapes is grown and a tasting room has been built to feature their wines. The Laytons grow six varieties of grapes — three red (Chambourcin, Norton and Cabernet Franc); and three white (Vidal, Traminette and Vignoles) — for their hardiness and proven ability to produce in the Eastern Shore climate.
When selecting the types of grapes to grow, William luckily didn't have to rely on trial and error. He had help from Joe Fiola, the University of Maryland Extension grape specialist. "He has four research vineyards scattered around the state where he grows an assortment of different grapes, and then makes wines from them," William says. "Joe gives tastings of those at different trainings and seminars, so that grape growers can get his experience on what grapes grow well in different parts of the state. Growers then taste the wines and see which ones they would like to add to their vineyard." William attended several of these trainings. From Joe's recommendations, William picked varieties that he knew would grow well and make the kinds of wines that he was looking for.
To bring his love of wine to a wider audience, William has produced a number of videos. In one, he discusses the different types of wine packages and the advantages of screwcaps over cork. In another, he explores what you can find on a wine label and what it means.
William says that Joe has played a big part in the growth of Maryland's winery industry. "He really changed our industry's ability to grow good grapes. Better grapes mean better wines. Better wines mean more customers, and more room for more wineries," William says. "There have also been changes to the laws in the last 10 years that have made it significantly easier for wineries to operate and the Maryland Winery Association really helps bring the industry together. But it all starts with the grapes."
And, Maryland wineries are turning out some impressive wines. Over 30 labels have earned outstanding scores of 90 points or more and many wines have won prestigious awards, including four wines from Layton's Chance.
Interested in trying out local wines during Maryland Wine Month? You can find a Girl Scout cookie and wine paring, explore one of the 10 wine trails in the state and much more! Check out Maryland Wine's website for a list of Maryland Wine Month events.
Hungry for more? Sign up for our newsletter and find us on Facebook, Twitter and Instagram.