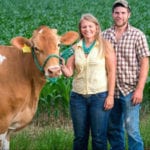 When Amanda Miller began cheesemaking almost 10 years ago, little did she know it would turn into a hunger for more.  "I love cooking and baking and thought this couldn't be much different. Boy, was I wrong! I fell in love with the challenge of learning and the science of cheese," she says.
To develop her newfound passion, Amanda immersed herself in books on cheese and studied at various schools in Vermont to hone her technique. She even worked as the University of Delaware's cheesemaker, teaching food science students about her passion for cheese. 
Recently, she returned to work fulltime on her husband Wes' family farm to bring cheesemaking production home. Chesapeake Gold Farms in North East has been owned by the Miller family since the 1700s. Although 100% of the milk comes from their dairy farm, their cheeses are produced offsite. "We have been hauling our milk to a third-generation cheesemaker since we began in 2018," Amanda says. 
They milk around 180 cows that are mostly Holsteins, with some registered Guernsey cows as well. Like dogs and cats, breeds of cows have their own special traits. "They each have different personalities and their milk composition is different and both complement each other for the cheese," Amanda says. For instance, Guernsey milk has higher butterfat content and beta-carotene content. Holstein milk is lower in fat and protein and is well-suited to cheesemaking.
"We raise 85% of the feed that our animals eat and buy other commodities to add to their feed mix, like cottonseed for protein. We even get by-products from local snack factories, like Herr's and Hershey," Amanda says. This may sound unusual, but this inexpensive source, like cookie pieces, licorice, and sugar and flour bakery waste, provides sugar, energy and carbohydrates, which is closely monitored by the farm's nutritionist.
Currently, the Millers make 20 different varieties of flavored cheddar and Colby cheeses. Each pound of cheese it takes about 10 pounds of milk to produce. They also collaborate with local breweries and wineries to discover new and interesting flavors. "We make some really delicious cheeses by washing the curds with local beer or wine," she adds.
Amanda says that it's easy to make cheese, but it's extremely hard to make consistent cheese. "You need to understand the science of milk and microbes to know what is going on in the vat at all times," she adds. "Yes, cheesemaking requires a recipe, but it also involves a lot of intuition. It requires years of experience in knowing what your milk is doing at each step in the process." 
This is only the beginning for Amanda. Cheesemaking is an amazing skill that she plans to improve on to bring more fresh, local products to Marylanders.
Hungry for more? Try your hand at cheesemaking. Learn more from the Maryland Cheese Guild. Find local Maryland cheese.
Sign up for our newsletter and find us on Facebook, Twitter and Instagram.