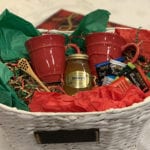 Visit a local farmers market or farm store and you're sure to see honey. Peruse the selection and you'll find jarred honey varieties and products made with honey, like soaps, candles and even lotions. These locally sourced and produced goodies make great holiday gifts and are even more special knowing they came from Maryland.  
So, where does Maryland honey come from? There are about 1,800 beekeepers with 14,000 colonies throughout the state. Some beekeepers are hobbyists while for others it's a full-time venture. Each year, the state's rural and urban apiaries produce over 100,000 pounds of honey – that's 85,000 gallons! Apiaries are any location where the beehives of honey bees are kept.
Honey bees play a special role to the agricultural economy of Maryland, too. Bees are needed to pollinate plants, which is how the plants are able to produce vegetables, fruits and grains for food and livestock feed. According to the University of Maryland Extension (UME) and Maryland State Beekeepers Association (MSBA), over $26 million dollars of agricultural produce are attributed to honey bee pollination. They also play a vital role in pollinating native wild trees which supports wildlife food and habitat, improving water filtration, better flood erosion control and the removal of carbon dioxide from the air we breathe.
How can you help support our buzzing friends? Look for products that are Bee Better Certified, a new program that promotes the use of pollinator-friendly conservation practices on farms. Having this seal indicates that the ingredients were grown in a way that supports bees and other pollinators, and gives you the option to support farms that are supporting bees.
According to UME and MSBA, here are some other ways to show your support. In your own garden, follow directions on pesticide labels (or use Integrated Pest Management) and plant habitats for pollinators. If your interest has been piqued, take a beekeeping class. And, of course, buy local honey and honey-made products to create heartfelt presents this holiday season.
Need some inspiration? Do a web search on "Maryland honey gifts," and you'll find local apiaries that sell their products online or at nearby stores. You can find treats like local wildflower honey, infused honey, tasting sets, moisturizing honey lip balm and much more.
Plus, here's an easy gift basket idea. Visit your favorite shop or market for honey products. Assemble a few festive coffee mugs, a jar of honey and instant coffee in a gift basket or box. Add a few beeswax votive candles or honey sticks for a special touch. Hand write the recipe below, courtesy of BannerBee Company, on a decorative tag and attach. Voila! You've made a fun holiday gift using local products that anyone is sure to love!
DALGONIA (honeycomb toffee) CACAO COFFEE
Serving size: 2
Ingredients
2 tsp. cacao honey
2 tsp. boiling water
2 tsp. instant coffee
6 oz. coconut milk
Chocolate shavings, optional
Unsweetened coconut shavings, optional
Directions
Add boiling water to cacao honey in mixing bowl; mix until honey is dissolved.
Add instant coffee granules; mix on high with whisk attachment until peaks form.
Gently scoop whipped mixture into glass 3/4 full.
Slowly pour milk into mug.
Garnish with chocolate shavings and/or coconut shavings.
Relax and enjoy!
Hungry for more? Sign up for our newsletter and find us on Facebook, Twitter and Instagram.