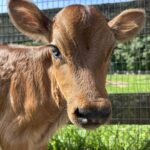 The Clark family has a rich history in Howard County, farming since 1797. The current farm came into being when James Clark Jr. bought it from his father after returning from World War II. For many years, he ran it not only as a dairy farm but also raised beef cattle and grew hay, straw and various vegetables.
It was in 2002 when his daughter, Martha Clark, introduced a new attraction to Clark's Elioak Farm to increase agritourism — a petting farm. This lets the community experience the charm and appeal of farm life, and get acquainted with all its friendly animals.
"As development has spread around our farm in Ellicott City, there aren't a lot of other farms around us. We are landlocked in suburbia, and as a result, it makes it hard to farm traditionally," Martha says. "Instead of seeing that as a negative, we see it as a positive. We have a great opportunity to connect with all of the folks that live around the farm and show them what life on a farm is like."
The farm covers over 540 acres, featuring various attractions and activities, in addition to farmland. Apart from the lovable petting farm and Enchanted Forest, which includes pieces from the original Route 40 attraction, the family grows produce they sell throughout the year. During summers, their roadside produce stand becomes a bustling spot with fresh-grown produce, a cut-your-own flower garden and farm-raised 100% grass-fed beef and pastured pork.
Martha's daughter Nora Vese adds, "We love introducing people to our friendly farm animals and showing them where food comes from. We love that our customers get to experience just-picked farm fresh food and realize how much flavor and nutrition it has." Nora is the seventh generation to run the farm, hopping on board to help her mother after graduating from college.
Nora sees this as a special opportunity. "The average household is two to three generations removed from farming these days. That means they are two to three generations removed from learning first-hand about where their food comes from," she says. "We love that we can offer the opportunity for all ages to come out to the farm and learn what it's all about. Even if farming is not for them, it's good to familiarize everyone with where their food comes from so that they can understand the hard work that goes into providing food, fuel and fiber."
There's a lot to see on the farm during different seasons. Fall is the biggest season on the farm. Highlights for visitors include the farm's pumpkins, hayrides and being outside in the crisp autumn weather. Other favorite times are spring when there are lots of baby animals on the farm and late August when the sunflower field is in bloom.
"We think people love our farm because of the beautiful scenery, fresh air, friendly folks and fun farm animals. I think people love to come out to the farm, breathe the fresh air, unplug from their devices and just be present with each other," Martha says.
To continue the family's legacy, the eighth generation — Nora's young son James — has begun his journey. "He's now literally taking his first steps on the farm," Nora says with pride. 
Hungry for more? Sign up for our newsletter and find us on Facebook, Twitter and Instagram.