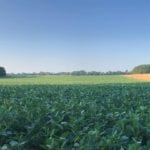 Soil has long been important for farmers, but did you know that it is becoming more important than ever for combatting issues like climate change and global warming? Scientifically named "carbon sequestration," this process allows for carbon to be removed from the atmosphere and stored in the soil. There are various farming methods that farmers can use to increase soil health, which in turn, increases the amount of carbon removed from the atmosphere. There are even some farming practices that you can use in your own backyard garden to keep the soil healthy.
The Ernst family has been farming their land in Clear Spring, Maryland, since the early 1940s. Four generations have worked on this long-time crop and livestock farm. Over that time, they have adopted many methods that will keep the farm's soil healthy for generations to come.
"Our soil is the lifeline of our farm. Our feed and grain business is what keeps our farm moving forward," says Joshua Ernst, who operates Ernst Grain & Livestock along with his father, Steve. "For the grain and feed to flourish, soil health is crucial. We have found that by making soil health a priority, both the environment and our wallets benefit accordingly."
Ernst Grain & Livestock also uses cover crops to improve the soil and crop health. Basic covers like rye, wheat and barley increase soil carbon, prevent runoff and squelch weed pressure. For example, crimson clover fixes nitrogen for the corn acres and Tillage Radishes® loosen the soil improving overall soil tilth — that's the condition of the soil relative to plant growth.
Sunflowers have a robust root system reaching deep in the soil to find available nutrients and water, and buckwheat scavenges phosphorus. The roots of the plant hold the nitrogen in place instead of it being "loose" in the soil where it could potentially run off into local waterways. All of these cover crops used in conjunction with the farm's cash crop rotation have greatly benefited the soil health.
Along with cover crops, the Ernst farm grows corn, soybeans, wheat, barley and hay, and raises sheep and hogs on 600 acres, of which 200 are owned by the family. "All of our grains are non-GMO and processed into livestock feed at our farm," Joshua says. "We retail these feeds on our farm as well as distribute them throughout the state. Our high-end feed line, Homestead Harvest Non-GMO Feeds, is sold in local feed stores and online."
Joshua says that the farm also relies on a multi-species crop rotation to prevent pests while working the soil nutrient cycles to favor the next crop. The farm uses buffer zones to prevent nutrient runoff into the watershed, where the trees and grass stop nutrients from leaving the field. And, manure and fertilizers are spread onto established cover crops, which will intake the nutrients and later release them to the cash crop as the cover breaks down throughout the growing system. Manure adds organic matter to the soil, and this organic matter increases the carbon storing capacity.
It's a true balancing act to ensure healthy soil to produce successful crops. Joshua and his family know the importance of this vital part of farming and will continue to try new methods to make sure their farm's soil is healthy for another 80 years.
Check out the Home & Garden Information Center to learn how you can also improve your yard's soil to create a healthier environment for your family.
Hungry for more? Sign up for our newsletter and find us on Facebook, Twitter and Instagram.