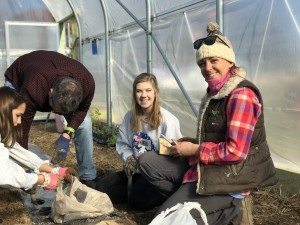 (HOLLYWOOD, MARYLAND) — While most grain farmers are wrapping up harvest and transitioning to "winter mode," one farmer in St. Mary's County spent the day after Thanksgiving putting a new crop in the ground.
Priscilla Wentworth of Anchored Roots Farm in Hollywood invited family and friends to help her plant about 1,000 flower bulbs in her new high tunnel greenhouse. "I'm hoping it will help me get an early start on my cut flower business next spring," she says.
In Anne Arundel County, Kayla Griffith and her father, Jeff, used to spend their winters stripping tobacco. "When we grew tobacco, we'd spend much of the winter out in the tobacco barn, stripping the leaves from the stem and then tying them into 'hands' that would be bundled and sold in Wayson's Corner," Kayla remembers. They quit growing tobacco in 2003. This year? Kayla's putting together budget spreadsheets for next spring and researching sources of various seeds, plants and fertilizer while Jeff is doing maintenance on equipment and attending Maryland Soybean Board and Maryland Farm Bureau meetings.
"Some farmers may spend time away from the farm during the winter — I'm talking about vacay homes in Texas or Florida — but most of us stay at home and work on various projects, attend meetings, take soil samples, work a second job, etc.," Kayla adds. "For me as a beginning vegetable farmer, I'm trying to grow my business and obtain appropriate certifications. Right now I'm studying for my nutrient management exam to become a nutrient management consultant so I can write plans for myself and other farmers."
Talbot County's Hutchison Bros. Farm always has chores. Travis Hutchison, his father Bobby, Uncles Richard and David, and cousin Kyle will work on cleaning and maintaining equipment, purchasing seed and other crop needs, and poring over yield maps from the 2017 crop year. "Precision farming and using yield monitors and maps gives us the data we need to make key decisions about next year's crop," Travis says. "We're also busy hauling grain from our on-farm storage tanks to the feed mills."
At Burrier Farms in Union Bridge, there's a lot of paperwork — although much of it is online now. Linda Burrier is a director on the Maryland Soybean Board and serves as one of Maryland's two directors on the United Soybean Board. That requires a lot of reading, which she accomplishes on her iPad in the family's historic home. Linda also travels extensively for USB (she even has Korean-language business cards!), is enrolled in a leadership development course, and along with her husband, Dave, enjoy time with family and community activities. "It's an honor to serve the industry," Linda says.
Cover crops and wheat are growing in the fields while, at Stoney Castle Farm in Montgomery County, Eric Spates and his crew are cleaning the equipment before storing it for the winter, and assessing the condition of the machines. Most machines will need some service and adjustment, while others are nearly worn out. "Sometimes, we can spend the time and money to perform a major rebuild on a piece of equipment, but other times it's better to bite the bullet and upgrade," Eric says.  With several tractors getting old and less reliable, and two pickups with over 200,000 miles, he is weighing his options. "We plow snow in winter, too, so a new truck would be nice," he adds.
Farmers who have animals, like dairy cows or broiler flocks, have a hard time getting away from the farm. Animals need daily care, with dairy cows getting milked twice a day and poultry houses being "walked" three to five times daily. In between flocks, poultry farmers can "fly away" if needed.
Hungry for more? Sign up for our newsletter and find us on Facebook, Twitter and Instagram.