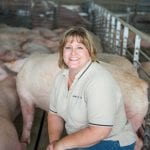 You may not be familiar with Kennedyville, Maryland. It's a small community tucked away in Kent County population 200. It's a far cry from the suburban sprawl of Howard County, where the Langenfelder family's farm was first established.
"My grandparents moved to their Howard County farm in 1956. Then, my dad took over several years later and raised hogs and grain," says Jennifer Debnam. "By the late 1980s, he had an 80-sow farrow-to-finish operation and grew grain on 1,200 acres." In this type of operation, pigs are bred and raised until they reach a market weight of about 280 pounds, which is about 10 months.
As a result of development pressures in Howard County, the Langenfelders moved their pig farm to the Eastern Shore. At the time, Jennifer and her siblings were still in their teens. "Our parents, Dutch and Pat Langenfelder, asked if we wanted to continue farming. I'm sure we didn't realize the full gravity of our answer, but we all said yes," Jennifer says. Bill Langenfelder started working for the farm full-time after graduating from high school in 1988. Jennifer and her sister, Kristen Nickerson, went to college and then worked off the farm a few years before returning.
The family's Grand View Farm now has a 675-sow, or female pig, farrow-to-finish operation selling their pork products under the name Langenfelder Pork. On the farm's 3,500 acres, they grow corn, soybeans, wheat, barley, peas, lima beans and sweet corn. That same corn is used to feed the hogs creating a sustainable farming practice.
Plus, the hog manure is used as organic fertilizer for the corn crop. The manure is spread on the field following the recommendations of a crop consultant. The consultant recommends where and when to place the nutrients in the field, helping to optimize the crop intake and reducing runoff to local waterways and the Chesapeake Bay. The family is committed to protecting farmland and enrolled in the Maryland Agricultural Land Preservation program.
"Our pigs are raised in barns to provide them with year-round comfort," Jennifer says. "Our sows, which are the moms, live in a barn with large pens where they are free to walk around during pregnancy. I manage the sow barn where they are bred and farrowed and the piglets are raised until weaning at three weeks of age." At that point, Kristen manages the nursery and finishing barns where the pigs grow from weaning until market size. Langenfelder Pork is primarily sold on the Eastern Shore at produce stands, specialty grocery stores and online.
"It is very rewarding to work with my family," says Jennifer, whose three sons and four nephews and nieces, representing the seventh generation of Langenfelders, work on the farm. "There definitely are challenges when working with family. But, we are all working toward the same goals."
Grilling Advice Straight from the Farmer
Pork is a very versatile meat and can be adapted to many different flavor profiles and cuisines. Most all pork cuts grill quite nicely. However, different cuts require different grilling techniques.
Ribs and pork butts (also called shoulder or picnic) need to be smoked low and slow. Often these are coated with a dry rub and wrapped in aluminum foil at some point in the cooking process. Lean cuts like pork chops and tenderloins can be easily over cooked, so they grill at a higher temperature for a short amount of time. Sausages, kielbasas and bratwursts are very easy to grill as the casing helps to retain moisture.
When selecting a cut of pork to grill, look for some fat. The fat helps keep the meat moist and adds flavor.
The number one tip when grilling lean pork cuts is to not overcook. Grill pork to an internal temperature of 145 degrees F, checking with a meat thermometer. Remove from heat and let rest for 3 minutes before slicing. Center can be slightly pink.
NOTE: All ground pork (including sausages, kielbasas and bratwursts) should be cooked to an internal temperature of 160 degrees F.
Happy grilling!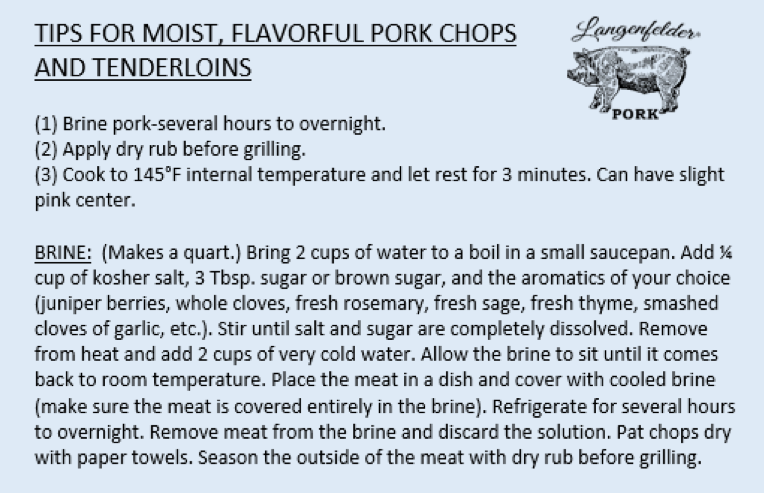 Hungry for more? Sign up for our newsletter and find us on Facebook, Twitter and Instagram.