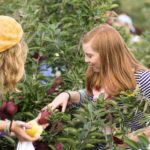 In 1902, Esma Milburn purchased a piece of land in Elkton, Maryland, to plant apple trees in the fertile soil of Cecil County. Eyeing the potential, Esma's son, John, loaded up those apples onto a Model T to make deliveries to a store in Wilmington, Delaware, throughout the '30s and '40s building the Milburn name and reputation.
It was the next generation of John's two sons, John and Evan, who painstakingly grew Milburn Orchards to about 350 acres. "During their time here, they spent long back-breaking hours expanding the business and diversifying. More fruits were added to our operation including peaches, cherries and a variety of berries," says Melinda Milburn Palmeri, Esma's great granddaughter and fourth generation co-owner along with brothers Jay and David.
"John and Evan opened our current farm market in 1971, added the bakery, and perfected the recipe of our famous apple cider donuts. They also replaced the standard-sized apple trees for dwarf trees to create a Pedestrian Orchard, doubling our apple crop and allowing for a safer harvest and tastier fruit," she adds. "This also paved the way for our U-Pick Apple Adventures to open, which is a major draw to customers who often drive hours to spend a day on our farm."
In addition to Melinda and her brothers, the next generation is already stepping up to work on the farm, which was named 2022's Best Apple Orchard by USA Today. Stephen and Caleb Milburn and Olivia Palmeri are full-time managers on the farm following in the footsteps of their parents, uncles, aunt and grandparents. "There's a number of other fifth generation family members who hold positions on our farm and are never afraid to jump in and help whenever needed," Olivia says.
Now in its 27th year, Milburn Orchards U-Pick Apple Adventures offers over 20 different kinds of apples throughout the season, and the varieties change every weekend based on the ripening schedule. Popular ones include Honeycrisp, Fuji and Mutsu. And, you'll find a few unique varieties, too. "Orange Honey and Sweet Zoe are only grown here on our farm," Melinda says. "Evan Milburn bred both of these apples. Orange Honey was named because of its orange-ish skin tone and sweet flesh with honey notes. Sweet Zoe was actually a happy accident that turned out to be so popular we decided to propagate it and continue to grow it."
The U-Pick season for apples lasts from Labor Day weekend until the last weekend of October. "There is no 'best' time to pick apples, really," Olivia says. "All varieties ripen at different points throughout the season so every weekend there is a new variety to try!" The family plants dwarf trees to allow for better picking and accessibility for customers and employees. Signage marks off which varieties are available for picking that weekend, and visitors can mix and match varieties.
The family has expanded its U-Pick Adventures offerings throughout the summer to include cherries, peaches, grapes and other berries, and created the BIG BackYard, an agritourism draw. "The goal for the BIG BackYard is to provide old-fashioned family fun, including hayrides through the orchard, a massive straw bale maze, a corn maze and our own BarnYard Buddies," Melinda says.
The Milburn family plans to continue this homegrown agricultural way of life for many more sets of children, grandchildren and visitors to come.
Hungry for more? Read about another orchard in Frederick County. Learn more about agritourism. Read more about fall farm fun. Find other U-Pick farms.
Sign up for our newsletter and find us on Facebook, Twitter and Instagram.