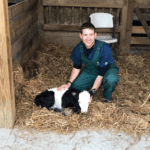 "All Creatures Great and Small," a Masterpiece series on PBS, provides a look into the fictionalized world of a rural veterinarian in 1930s England. It explores his deep compassion and love of animals while traveling from farm to farm treating animals. That glimpse into the profession still rings true in today's world.
Take, for example, Matthew Weeman of Bayside Bovine Veterinary Services based in Centreville. His 100% mobile practice takes him all over the state mainly treating large farm animals, like cows — which are his main focus — pigs, sheep, goats and some poultry. "From earlier than I can recall, I have been passionate about caring for animals," Matthew says. "Growing up on the dairy farm, I envisioned becoming a veterinarian as my future."
A Midwesterner, Matthew earned his veterinary medicine degree from The Ohio State University. "I lived in the Midwest, have practiced in an 80,000 cow practice in the Northeast and have practiced six years now in Maryland and Delaware," he says. "I love this region because it is beautiful and offers a plethora of different people, farms and species."
The area does offer some challenges, though. "What is most unique about this region is the urban/rural interface," continues Matthew. "While it is great to live and work in an area with diverse economic opportunities, it has many challenges. Travel is a very expensive and inefficient part of veterinary medicine in our region. There are not very many cattle vets willing to sit in traffic."
Growing up on a dairy farm and milking cows every day until he went to college grew Matthew's interest in treating the species. With over 175,000 cattle in Maryland, there are a lot of potential patients to be seen. He handles every medical situation from the most commonly treated ones, such as indigestion issues like acidosis, bloat, parasites and nutritional deficiencies, to lameness issues, surgery and fertility work when Mother Nature needs some help.
In addition to cows, Matthew also treats similar issues on small ruminants, like sheep and goats. And with pigs it's a mixed bag, but largely centralizes around respiratory and reproductive issues. During the early spring, he is busiest treating parasites, pneumonia and digestive issues. Even though it's also a busy birthing season, handling difficult births is not as frequent.
"I thrive on the feeling of satisfaction that comes from knowing I saved an animal and made a difference in the life of the person that cares about it," Matthew says.
Hungry for more? Get to know your dairy farmers producing ice cream. Learn more about pigs. Find where to buy local meats.
Sign up for our newsletter and find us on Facebook, Twitter and Instagram.