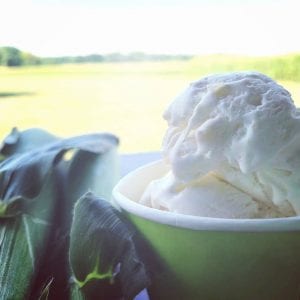 Nothing says summer treat more than ice cream. And, when you choose an ice cream made in Maryland, the taste just gets sweeter.
"I love cooking and I love flavors. I love ice cream way too much!" says Kate Dallam of Broom's Bloom Dairy in Bel Air. Broom's Bloom Dairy has been in the Dallam family since 1726. And, as Kate adds, that's 50 years longer than our country!
The name originates from the colonial land grant for the area along with the original owner of the land, John Broom. "Bloom" refers to crops flourishing and providing for the tenants. "We are devoted to the land and we decided when we became care takers that we would make it sustainable for future generations," says Kate about her and her husband David's commitment to the farm.
When Kate references sustainability, she thinks of it in a two-pronged approach: environmental, like improving soil health and preventing erosion by contour strip cropping; and financial, which is building the farm for the future.
"We depend a lot on the younger generation for help on the dairy farm with our cows and fields," she says. Kate and David are proud that they have their niece, Ariel, two nephews, Henry and Sam, and two of their three daughters working on the farm. "Emmy and Belle help feed and milk over 50 cows every day," Kate adds.
The cow feed is grown on the farm and includes corn silage, soy beans, hay and alfalfa. Their milk is currently processed off site at a wholesale facility, but they set aside about 5% for their own cheese.
The turmoil in the dairy industry has been motivation for change. The Dallams are constructing their own building with processing equipment on the farm, which is expected to be completed by the end of this year. "It has made us more determined than ever to be in control of our own product," Kate says. "That's why we are making scary decisions, like building our own facility, that will lead to the future of our farm. Because of our farm's small size it's key to control how the milk is sold directly to the consumer."
The new processing facility will be a welcomed addition to the already prospering market that has been scooping out ice cream since the early 1990s. "There's a lot of creativity in making ice cream," Kate says. "It's hard to make a bad ice cream. You have to work hard at making a bad one."
Broom's Bloom Dairy offers over 100 flavors throughout the year. They have family favorites, like butter pecan, chocolate and vanilla, but like to get creative and use local Maryland products. "I love seasonal flavors and making people wait for something special," she says.
In July, as soon as local corn comes in, Kate starts making sweet corn ice cream. Although this flavor may sound odd, each year it picks up fans with its use of local bi-color corn that's not crazy sweet. You can also find peach ice cream during the summer. "Everyone has a favorite peach ice cream from their childhood and stories to regale," she says. Kate perfected her peach ice cream through a lot of trial and error, but found roasting the peaches and adding brown sugar made just the right combination.
In August, cantaloupe ice cream is a nice and unexpected flavor. Then, into the fall, pumpkin, sweet potato and ginger snap ice creams are available. For the holiday season, Kate likes to bring traditional flavors to her ice cream, like peppermint and egg nog, along with some more unexpected ones like German stollen, which is a fruit bread made of nuts, spices and dried or candied fruit — and even fruitcake.
There's a reason they've been awarded Harford County's Best Ice Cream for 10 years in a row.
Ready to try a scoop or two of Maryland ice cream? Then, it's time to take a trip on Maryland's Best Ice Cream Trail to discover even more about this local treat.
Hungry for more? Sign up for our (email/blog) and find us on Facebook, Twitter and Instagram.