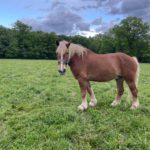 JoAnn Dawson's love of horses began at a young age. "Growing up on a dairy farm, my dad needed help rounding up the cows from a field far from the barn," she says. "He bought me a pony, put me on bareback (no saddle) and told me to go round-up the cows." Throughout her childhood, JoAnn had several ponies and horses — and never lost the love.
She and her husband, Ted, now own Fairwinds Farm & Stables, Inc. in North East, Maryland. "The farm was formerly a dairy farm in the late 1800s to mid 1900s, then became a lay-up (or rehabilitation)  facility for racehorses until 1998, when we bought the property," JoAnn says.
The 52-acre farm, which sits on the highest point in Cecil County, features a one-acre pond stocked with fish, outdoor and indoor riding rings, cross-country jumping course, and 15 acres of woods with riding trails and six pastures. Two barns house the farm's 22 horses along with four that are boarded for employees.
"Each of the horses is ridden or driven pretty much every day at least once, either in lessons or trail rides, pony or carriage rides," JoAnn says. "We also allow people occasionally to bring their own horses in for a lesson."
A hub of activity throughout the year, the farm welcomes about 150 students per week for riding lessons and offers visitors pony and trail rides that have benefits beyond pure enjoyment. "Being outdoors, exercising, keeping busy, getting your hands dirty. Bonding with a horse whether by riding or just grooming and being around a 1,000 pound creature which could hurt or kill you but chooses to let you groom, love and ride it can save your sanity," JoAnn says.
In 2014, Fairwinds Farm & Stables was designated a Maryland Horse Discovery Center that welcomes the general public of all ages and experience levels to learn about horses in a knowledgeable and friendly environment. "It means a lot because we have always tried to be an open, welcoming stable where anyone can stop by and relax, watch a lesson, pet or groom a horse, or just watch them in the field," JoAnn says. "We enjoy introducing as many people as possible to horses."
And, JoAnn says that horse-oriented activities don't stop when the weather gets cooler. "We have four seasons in Maryland, which we love," she says. "It's wonderful to feel the autumn chill, take a trail ride in the snow, and then see the grass growing in the spring and summer."
In addition to Fairwinds Farm & Stables, Maryland has a number of trail riding stables to choose from when you're ready to saddle up.
Hungry for more? Take a trail ride, then grab a beer at Waredaca Farm. Read about a veterinarian's Thoroughbred nursery and boarding facility. Learn more about race horses after retirement.
Sign up for our newsletter and find us on Facebook, Twitter and Instagram.