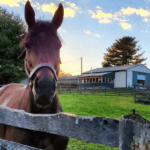 Every morning, Reisterstown veterinarian Dr. Michael Harrison starts his day by 6:30 a.m. But the day doesn't begin by him putting on a white doctor's coat and caring for patients. It starts with him hopping into his John Deer Gator to navigate the family farm's pastures to feed the horses.
"My family moved to Willowdale Farm in 1962. My father was an attorney, but was also a passionate farmer," Michael says. "On the weekends and during summers, I spent my childhood caring for animals and helping with farm chores. I had a lot of experience caring for animals like cows and sheep, but my interest always came back to horses."
About 60 acres of the 188-acre farm is now dedicated to his beloved horses, serving as a Thoroughbred nursery and boarding facility. "On average, the farm will foal out roughly 30 mares in a season, several of whom board year-round. We also own seven broodmares ourselves, along with 10 other horses, some of which are yearlings, a few of racing age and a few that are retired," Michael adds.
Thoroughbred horses are purebred horses, who often have careers as racehorses. Foaling season begins in January and ends in May. On average, a horse gestation is 340 days, but can be anywhere from 320 to 365 days. Michael explains that once born, the baby foal is with its mother for four to six months. Then, the foal is weaned from its mother, which helps mom maintain weight and prepare for her next baby. The foal is considered a yearling after January of the following year. At this point, yearlings are growing and maturing quickly and are learning things like how to carry a person and take commands. At the earliest, a horse will race at two years of age.
During foaling season, Michael has extended hours as mares often foal at night. Just recently, he had three mares foal in a 24-hour period. His use of technology helps during this busy season. "A foal alert system, which is a device attached to the birth canal opening, sends an alarm that notifies the entire family that the mare is foaling." Additionally, Michael places cameras in the stalls to watch over the animals pre- and post-birth. Once a horse is ready to deliver its baby, it's all hands on deck to deliver, including Michael, his daughter Erin, his son Justin and, from time to time, Justin's wife, Tiffany, and his granddaughter, Rylnn.
Michael takes a lot of pride in running a diverse farm that reaches beyond horses. "Everything has a reason or purpose for being grown and rotated on the farm.  Different people with different interests and different strengths give our farm flexibility to go on and be successful," he says. "I focus on veterinary needs, Justin operates the successful onsite Farmacy Brewing and manages a herd of beef cattle, and Erin manages the horses — it's a family team operation." Currently, grain for beer, including barley, oats, wheat and rye, and hay for the horses and cattle are grown at Willowdale Farm. 
The farm's biggest winning horse was Talk Show Man, a multiple stakes winner. He's currently part of a program called the Retired Horse Race Project that focuses on lifestyle changes for racehorses to other activities that allow them to continue using their strengths and talents.
Beyond the Wire, an initiative between the Maryland Thoroughbred Horsemen's Association and the Maryland Jockey Club, is another program for retired horses that help the transition to a new activity after racing.
"The Maryland horse industry is a crucial agricultural and economic engine of the state," Michael says. "Unlike other states, ours is made up of families that own and operate breeding stables, racing stables and sometimes both. If you're breeding racehorses, you're going to be racing."
Hungry for more? Read more about the Retired Race Horse Project or Beyond the Wire. Visit the Maryland Horse Library and Education Center. Find out what's happening at Pimlico.
Sign up for our newsletter and find us on Facebook, Twitter and Instagram.