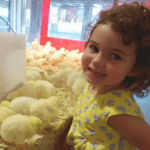 It's that time of the year for the state fair! Cotton candy, Ferris wheels and concerts. These are definitely exciting parts of the Maryland State Fair. But, if you look beyond those attractions, you'll find a world full of agricultural gems — everything from horse showmanship to milking cows, bunnies and beehives to locally grown grains and flowers on display.
Another one of those gems is the Birthing Center located at the fairground's Cow Palace. Here, fairgoers have the opportunity to witness the birth of calves, piglets and chicks under the supervision of experts and University of Maryland students from the Animal Sciences program.
The Birthing Center first opened to fairgoers in 2001 under the direction of Tom Hartsock. In his 19th season, the now-retired University of Maryland, College Park Animal Science teacher continues his "labor of love."
"We reach thousands of people who otherwise wouldn't have learned about how farm animals are born," Tom says. Since 1879, agriculture education has been one of the key ingredients of the fair, bringing farming to fairgoers. "They get to witness the entire birthing process and ask questions. It's an incredible teaching experience," he adds.
With the assistance from the specially chosen college students, Tom oversees every part of the birthing center, before and during the fair. "It's like setting up an entire farm for 11 days," he says.
At this year's fair, the Birthing Center will welcome 14 pregnant dairy cows and nearly 20 soon-to-be mother pigs from local Maryland farms to give birth. These animals will be treated with care from the moment they enter the center. "Our cows and pigs get to meet us well before they give birth and they get to know the facility as well," Tom says. In addition, he says that over 300 chicks will hatch during the fair in incubators for easy viewing.
Inside the Cow Palace, bleachers seat 350 people to view the births, which frequently are filled to capacity, so Tom came up with a solution to provide that opportunity to more fairgoers — several televisions are set up so overflow crowds can still see the births.
"People stay and listen, which is the most important part, and ask all kinds of questions," Toms says. "We are totally a live reality show."
This year's Maryland State Fair runs from August 26 through September 6, 2021. General fair hours are Saturdays and Sundays from 10 a.m. – 10 p.m. and weekdays from 12 Noon – 10 p.m. Fairgoers are welcome to arrive early to visit the Birthing Center, livestock and horse shows.
Hungry for more? Don't miss one birth! Follow the Birthing Center's Twitter page for birth announcements throughout the week. Learn more about the University of Maryland's Animal Sciences program.
Sign up for our newsletter and find us on Facebook, Twitter and Instagram.