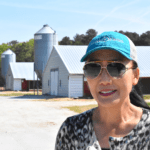 About five years ago, Amy Tran came to a realization about her future. "My background is in the medical field, but I wanted to get away from the city life in Baltimore — and not have to wake up in the morning to fight traffic to go to work," she says.
That epiphany led her to check out a farm that was for sale in Westover, population 5,400. "I had never been a farmer before," Amy says. "When I came here to see the farm, I saw how peaceful it was, so I decided to get into the chicken business."
Amy grows for Amick Farms, a poultry production company, that delivers one-day-old chicks to her farm which has five houses. She grows up to 125,000 birds per flock, and five flock per year, which is over half a million chickens. "It's like a challenge, like a race. You see chickens grow every week," Amy says. "For me to see them growing is very fulfilling."  
To care for her birds, Amy provides the housing, heat, air and water, and Amick Farms delivers feed which is mainly processed soybean and corn that provides essential protein to the feed. Each flock takes about seven weeks to grow, then the company sends a crew to the farm to hand catch the chickens.
Further embracing the farm life, Amy has installed plant buffers and trees, which both beautify and help the land. "Putting buffers in helps clean the air and helps the people surrounding me. And it's good for the environment, too. If I can plant more trees I'm more than happy to plant more trees," she says. These vegetative environmental buffers also act as wind breaks, provide shade and encourage pollinators.
"I'm fortunate that I have a beautiful farm," Amy says. "It's tucked back in the woods and very private. Every morning when I wake up, I don't hear traffic… it's a great feeling."
Hungry for more? Interested in your own backyard flock? Read more here. Learn more about attracting pollinators. Read about another Maryland chicken grower in Queen Anne's County.
Sign up for our newsletter and find us on Facebook, Twitter and Instagram.