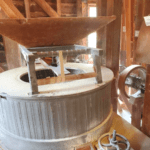 This holiday season, when you pull out your great-grandma's famous pie recipe, think about where to find the ingredients. Apples, pears, pumpkins, sweet potatoes and other Maryland-grown fruits and vegetables can still be purchased from local farmers markets. But, have you ever considered where the flour for your delicious baked goods comes from?
Flour milling started centuries ago in the United States, including at the Old Wye Mill in the village of Wye. Still in operation today, the 1600s grist mill produces a variety of flour, corn meal and corn grits. "Old Wye Mill is the last operating water-powered mill on the Eastern Shore and one of only two surviving operating Maryland mills, which numbered 200 in 1800. The mill is the oldest grist mill on the Eastern Shore, and probably the oldest in the state," says John G. Nizer, president of the Friends of Wye Mill, Inc., the charity that preserves and operates the mill. "It truly is an opportunity to step back in time and see how flour, corn meal and grit were produced."
The process, which harkens back to Colonial Maryland, begins when water flowing through a flume (like a canal) sets the outside waterwheel into motion. The waterwheel turns gears and wheels inside the mill to operate the elevator system that transports the grain from storage and the heavy millstones that grind the grain. Once ground, the flour falls down a chute to be dried and to separate the flour from the chaff, which is the unground part of the grain. The flour then falls into the meal bin to be bagged and the chaff into a container to be repurposed for other use. If the grain was corn, the chaff would be sifted to find the part of the corn known as grits.
Today, modern flour mills rely on faster automated machinery that provides more consistent textures than traditional methods. Yet, they are producing the same results that milling has done for thousands of years — converting grain to flour.
Wheat, einkorn wheat, corn, as well as organic wheat, barley, buckwheat, corn and rye are ground at Old Wye Mill. Most of the grains are locally sourced from Maryland farms, including Nagel Farm Service, Mason's Heritage, Mt. Zion Orchard and Cutfresh Organics Farm. In 2021, the mill ground about a ton of grain.
This past fall, Aaron Cooper of Cutfresh Organics in Eden, delivered 100 pounds each of hard red winter wheat and open pollinated corn to the mill. Each year, the farm produces around 4,000 bushels of wheat and other small grains and around 15,000 bushels of corn each year. "The Old Wye Mill is an important piece of history," Aaron says. "It's impressive that it has been in continuous operation. Visitors can see an authentic water powered grist mill in operation and learn about a major component of agriculture from past centuries." 
The Friends of Wye Mill believe in supporting our local farmers and businesses whenever possible. "These people are our friends and neighbors. By supporting them we are supporting our community, state and county," John says.
Old Wye Mill is open from May through October with Grinding Days throughout the season where visitors can experience first-hand the history and technology of this Maryland treasure. For seasonal shopping, its Christmas Shop is open on certain days in November and December. Visit the mill's website for more details.
Try your own recipe or this delicious Buckwheat Dessert Cake recipe courtesy of Old Wye Mill using locally milled flour. And, wow your guests when you tell them that your flour came from the oldest grist mill on Maryland's Eastern Shore.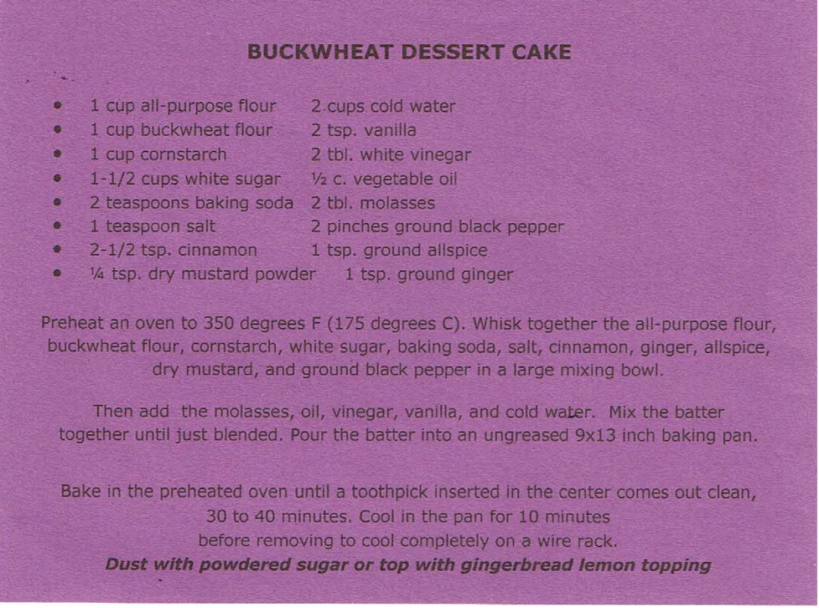 Not a baker? Visit one of these farms for local baked goods. Look for other local holiday gift ideas. Hungry for more? Read about what farmers do during the winter. Find out where poinsettias are grown in Maryland.
Sign up for our newsletter and find us on Facebook, Twitter and Instagram.