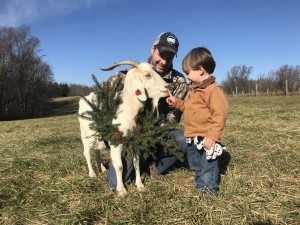 Spring through fall, Jamie and Benson Tiralla stay busy caring for livestock and selling meat at the farmer's market. But what about winter?
"It's just as busy on the farm in the winter as it is any other time of the year," Jamie said.
Maryland weather is unpredictable. So far this winter, the temperatures have been mostly mild in 2017. There have been a couple days with freezing temperatures. The most important part is to make sure the animals always have water to drink. Some of the pastures at Monnett Farms have frost-free hydrants that don't freeze over. But other fields have water tubs. Jamie said when it freezes, they have to go in and break up the ice so the animals can drink.
Jamie and Benson are also fencing in some new pasture. Favorable weather makes that work much more enjoyable. Permanent fencing will establish a perimeter around fields to keep the livestock out of the wooded areas and streams. They use temporary fencing to break pastures into sections so they can follow a rotational grazing schedule. "The grass doesn't grow as well this time of year, though we've been lucky so far to have somewhat of an extended season," Jamie said.
To feed the livestock during the winter, Jamie and Benson grow their own hay. And, it's breeding season, too. "We bred a few cows this year, and the buck and ram, the males, will stay in with their female counterparts, goats and sheep, through the end of the month. We should have plenty of baby animals come spring time," she said.
Of course, there's a lot of paperwork to be done in the winter. Farmers spend the winter months reviewing records from the year past, planning for tax season and thinking about the upcoming year. "Planning is always key. You have to be able to look back and see what you did this year and compare it to previous years to come up with a solid plan for the year ahead," Jamie said.
Living on a farm doesn't afford many opportunities to get away, Jamie said, but she and Benson have some plans to travel this coming year. That includes attending industry-related events, such as the American Farm Bureau Federation annual convention in Nashville, and the AFBF Partners in Advocacy Leadership program in United Kingdom and Brussels. One of the conferences Jamie most looks forward to is the CASA Future Harvest "Cultivate the Chesapeake Foodshed" conference. "There are so many great conferences this time of year. It's a good time to just step back and learn new things," she added.
Although the pace around the farm doesn't slow during the winter, Jamie says that "we're just like any family this time of the year. The kids are excited about Christmas and we're just trying to get ready for the holidays."
Hungry for more? Sign up for our newsletter and find us on Facebook, Twitter and Instagram.