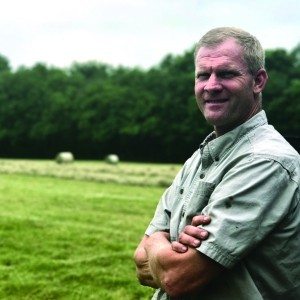 (POOLESVILLE, MARYLAND) – Mid-June 2017 – Over at a farm called "Surmont," Eric Spates watches his new farmhand begin to master round-baling hay. "He just started," Spates explains. "There's an art to it. The first couple ones look like ice cream cones, and then you kinda get the hang of it."
Squinting at the cloudy sky over Montgomery County, Md., he hopes the rain holds off long enough to finish baling the field – a custom job for a neighbor – before dashing off to scout progress in a soybean field. Picking at the soil with his penknife, he frees a small seed struggling to emerge from the crusted soil. On this farm, his own, he could use the rain.
"Soybeans need moisture to let that seed swell, send out a root, and then push the split seed out of the soil," he says. "We're getting a little dry here and that's making it hard for this seedling to emerge."
Other than that, the field looks good: Few insects, no disease, and the weeds are starting to yellow and die. Scouting his crops is an important part of his job. He's got 1,100 acres of corn, soybeans, hay and wheat, the last of which is getting close to harvest. Walking through the fields, getting dirt on his knees and taking a close look lets him spot problems and take care of them before they become big problems. He's keeping an eye on some Bean Leaf Beetle damage in one field. It looks like the plants will outgrow the damage, but he may have to spray if the damage reaches thresholds set by university recommendations.
Mid-June is an incredibly busy time for farmers, with small grains like wheat and barley ripening and ready for harvest just as corn and soybean planting is under way. Add cutting, raking and baling hay to the mix and a dozen or so head of cattle in a pasture, a rescue mutt and three cats, and a full slate of volunteer activities on behalf of his industry, and Spates can't count many spare minutes.
The farm is a labor of love, though. "I think I always knew that I would come back and farm," he says. "This farm, Stoney Castle Farm was my grandparents' farm. In 1975 my mom and dad sold our farm in Germantown and moved here. After I graduated from Virginia Tech I saw that it was time to come back, work with Dad and bring some more modern ideas to the farm."
Stay tuned as we follow Eric and his crops through the summer.
Hungry for more? Sign up for our (email/blog) and find us on Facebook, Twitter and Instagram.