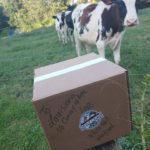 When Hurricane Ida hit the Louisiana coast this past summer, people across the nation sprang into action to help and donate lifesaving items, like food, water and clothing, to those communities affected by the devastation. That effort included fresh products from more than 25 Maryland farms that came together in support.
How did a group of farmers from Maryland become involved? Jessica Armacost, business operations manager of Albright Farms in Baltimore County, says that it only took one call. "I was working on building our wholesale accounts when I got a call from Tom and he said to put everything on the backburner," Jessica recalls. She is referring to farmer Tom Albright who was contacted by First Fruits Farm, a local non-profit Christian ministry, that was interested in spearheading an effort to help send donations to those hard-hit areas.
"Hurricane Ida has had a devastating impact on many communities and families," Tom says. "To know that we can play a role in organizing fresh, nutritious fruits, vegetables, meat and dairy products at a time they are needed most is both humbling and deeply gratifying."
The team at Albright Farms was instrumental in organizing the donations and transportation of the products in coordination with Convoy of Hope. "It's the perfect example of coming together for the greater good," Jessica says. "The farmers I have spoken with have said that they've been blessed in one way or another, and felt called to donate product."
Donations included nearly six tractor trailer loads of chicken, beef, pork, eggs, milk, cheese, yogurt, apples, peaches, collard greens, green beans, potatoes, corn, tomatoes and other assorted fruits and vegetables. Mountaire Farms, Inc., the fourth largest chicken producer in the U.S., sent 40,000 pounds of chicken as well as volunteers.
"Mountaire Farms is proud to partner with local farmers and help out those in need after such a devastating hurricane," says Catherine M. Bassett, director of communications and community relations for the chicken company. "We have operations in communities that could be impacted by these storms so for us, it's personal. We know we'd want people to help us out, so we're happy to do our part to help others."
It's an effort like this that shows how one phone call can make such a huge impact on so many.
Farms that donated include: Albright Farms, Bartenfelder Farms, Benual King, Brisk Wind Farms, Clayton Farms, Clear Meadow Farms, Corner Mill Farm, Daily Crisis Farm, First Fruits Farm, Flinchbaugh Orchard, Hills Forest Fruit Farm, Jack Lovett, Maple Border Farm, Mason Farms Produce, Miller Farms of Clinton, Mountaire Farms, Mullan Nursery, Pahl's Farm, Pond View Farm, Rahll's Produce, Richardson Farms, Roseda Farm, Stoecker Farms Produce, The Miller's Farm in White Hall, Tom Humphries, Weber's Cider Mill Farm, and Whispering Breeze Farm. Find many of these farms and others in Maryland's Best farm directory and when you visit, let them know you read about them on My Maryland Farmers.
Hungry for more? Support a Maryland farm. Give back to your local community and buy local. Discover more about Albright Farms.
Sign up for our newsletter and find us on Facebook, Twitter and Instagram.