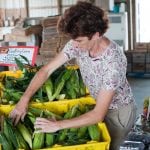 (ANNAPOLIS, MARYLAND) – July 2018 – Buying local and "hyper-local" is still trending as one of the hottest movements in food. And it's no wonder: Most foods are best when they're freshest. Our Maryland farmers and watermen work hard to bring you and your family the bounty from Maryland's land and water while protecting our natural resources.
So, how can you tap into all the benefits of this trend? We've got the skinny with these eight tips to making Maryland's Best foods the stars of your summer table:
Ready to put it all together? Follow Maryland's Best on Facebook, Twitter and Instagram, and sign up for the Buy Local Challenge to get even more tips, plus recipes and foodie news!
Hungry for more? Sign up for our newsletter and find us on Facebook, Twitter and Instagram.