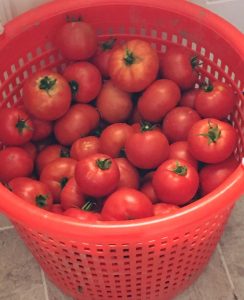 The days are getting cooler and summer may be coming to a close, but farmer's markets across Maryland are open for business. Many farmer's markets are open through November and there's lots to choose from. We spoke with three Maryland farmers to get the inside scoop on what's fresh and plentiful during the fall.
You'll be happy to know that produce is abundant at this time of the year. Fresh products to look for are sweet potatoes, butternut squash, onion, garlic and beets. Plus, there are still tomatoes and peppers available with many varieties getting sweeter through the autumn.
"Many farmers are adding 'season extension' methods to their farms to produce their crops longer," said Priscilla Wentworth of Anchored Roots Farm in Hollywood. "And this provides a wider variety of products later into the season."
Kayla Griffith of Griffith Family Produce in Lothian says that brassica crops, like broccoli, cabbage and greens, are popping up again at some markets. And, it's a great time to think about adding natural elements to your seasonal décor like Indian corn and pumpkins, and locally grown mums.
Not just for summer months, many farmers offer "pick your own" for fall produce, too. Turnips and kale are two popular pick your own crops during this season. "Don't be afraid to ask at the farmer's market if your favorite farmer also has any pick your own crops," said Kayla. "This actually helps farmers who otherwise may not have the staff or time to harvest the crop in the quantity needed for market."
In addition to produce, meats are in season and it's a great time to stock up for the winter months. Jamie Tiralla of Monnet Farms in Prince Frederick says that if you've got a good chest freezer, the meat will last all the way until spring. But, you may not need an entire side of beef. "If a large purchase is too much for your family, you can go in with another family or ask if the farmer sells smaller portions," Jamie said. "Many farms sell quarters or even bulk packages of beef."
Pull out your slow cooker, pop in a roast, add some farm fresh veggies, and enjoy a meal a la farmer's market.
To find a farmer's market that is open during the fall, visit Maryland's Best Agriculture. – All photos courtesy of the Maryland Farmer's Market Association.
Hungry for more? Sign up for our (email/blog) and find us on Facebook, Twitter and Instagram.