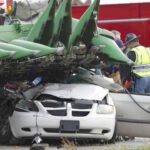 With Maryland's rich agricultural industry, it's not uncommon to drive by a farm and see a tractor or combine working the land. Yet, those same vehicles sometimes need to drive to other locations. "Our fields are in different places and I'm not sure people realize that we need to use public roads to move our equipment," says one Montgomery County farmer. "Other drivers need to consider our vehicles like they do wide-load trucks they encounter on the highway — slow down and take caution."
Finding yourself behind one of these large farm vehicles, especially for new drivers, can be challenging. Thankfully, a new driver's education video, "All About SAM and SMVs," developed by the Maryland Soybean Board and sponsored by the Maryland Highway Safety Office, is helping to spread awareness about slow-moving vehicles (SMVs) and how to safely drive near and around them. The friendly mascot of the campaign, SAM, which is an acronym to help drivers remember to Slow down, Assess your surroundings and Move with caution, guides viewers through the short lesson. SAM's character is based on the reflective sign that farmers or other drivers place on the back of their vehicles warning that they are slowly moving.
Slow-moving vehicles include large equipment used for farming and road maintenance and even quaint horse and buggies used for transportation. The common factor is that they all travel below 25 mph — even on public roads. Driving safely around them is particularly crucial for young drivers, as the age group of 15 to 24 make up over 22% of rural road fatal crashes, the highest rate of any age group. That's why driver's education about SMVs is so important, especially during planting and harvesting seasons when farmers are in full swing, and warmer weather when road crews are maintaining and repairing roads.
"We take great care when we move our equipment," the farmer says. "We try to pick the best times when there's not much traffic. We've found the best time for us to move equipment is 6 a.m. on a Sunday morning. Unfortunately, people still get impatient and yell because we are moving slowly."
The overall goal of the lesson is to help reduce the number of potentially dangerous and even fatal crashes. After watching the video, drivers will be able to identify an SMV; understand how to meet an SMV and how to follow and pass it; and identify hazards that will impact the operation of an SMV.
"Keep in mind that if there are no shoulders on the road, we just can't move over and in some spots, our equipment will take up the whole road," the farmer continues. "I just ask that drivers remember that we all have somewhere to go and all of our time is valuable, but what is most important is all of our safety."
If you're not familiar with SMVs, make sure to watch and share this video. It's an additional step you can take to become a safer driver and more likely to avoid a crash!
Hungry for more? Learn more about SMVs. Follow along at Find Me Driving. Watch this educational video. Download a teacher's guide. Read more tips.
Sign up for our newsletter and find us on Facebook, Twitter and Instagram.