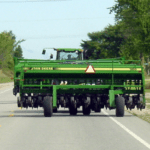 It's that time of year again when Marylanders pack up their vehicles and head to idyllic vacation spots across the state; places like our western mountains or the eastern shore. It's also when farmers tend to their crops — frequently driving large farm equipment on those same roads we are traveling.
When we encounter their slow-moving farm vehicles that aren't a part of our travel plans, the first thought may be frustration. It shouldn't be. They are working to put food on our tables.
"Be careful out there on the roads," says Maryland farmer John Bruning. "There will be a lot of combines, planters, sprayers and trucks. Keep an eye out for the orange triangle sign on the back of tractors, which indicates a slow-moving vehicle. Try not get in a hurry because all it's going to do is get someone hurt."
Farmers need road access just as any driver. A public educational campaign, called Find Me Driving, encourages drivers to be aware of all slow-moving vehicles, whether it be farm tractors or combines, or road maintenance equipment, or horse-drawn wagons and buggies.   When finding a slow-moving vehicle, think SAM: Slow down, Assess your surroundings, and Move with caution.
Easily identify a slow-moving vehicle by looking for the bright orange triangle sign with a red border indicating that the vehicle can only travel up to 25 mph.
Slow down accordingly and stay about 50 feet back.
Wait for a safe passing zone, watch for oncoming traffic, signal and return to the lane once the slow-moving vehicle is in your rearview mirror.
Look for road obstacles like mailboxes, guardrails and signs that a farmer may have to cross the yellow line to avoid. Driving wide equipment, farmers may also have to swing into the left lane to be able to make a right turn, or veer right to turn into a lane on the left.
Watch for their turn signals and, before you pull into an intersection or make a move to pass, be sure your path is clear in all directions. Tall crops can create "blind" corners, and farm vehicles may enter a roadway from unmarked access drives in fields. Also, be aware of intersections and field entrances where farm equipment might turn.
At no time assume a farmer knows you are near their vehicle. Stay visible and do not drive in equipment blind spots where operators can't see you. Farmers, hard at work to provide you with a safe food supply, will pull off the road at the first safe opportunity so you can pass.
Plan accordingly. Summer means busy times on the farm. More than likely you will encounter a slow-moving vehicle.
Give yourself plenty of time to reach your destination so everyone remains safe and happy. And, don't forget to stop by a farmers market to pick up fresh produce along the way!
Hungry for more? Meet John Bruning in this video from Find Me Driving. Learn about buying six-figure farm vehicles. 
Sign up for our newsletter and find us on Facebook, Twitter and Instagram.