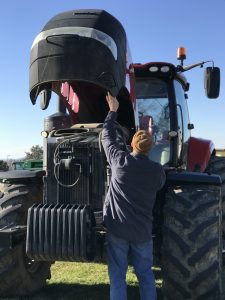 (CHAMBERSBURG, PENNSYLVANIA) – In some ways it's exactly the same: You look under the hood, take a test drive and do a ceremonial kick of the tires. Then, you prepare to negotiate with the salesperson. After checking the lot of the local dealer and not finding a tractor suiting his needs at a price in his budget, Maryland farmer Eric Spates began to look a little further.
In Chambersburg, Pennsylvania, on a chilly day in early winter 2018, Spates lifted the hood on a Case IH Magnum 240 CVT — that's a red tractor — to take a look at the engine. Walking around it, he noted the AFS logo, which meant it was satellite-ready for auto-steer;  the lack of a three-point hitch on the front (which wasn't a deal-breaker but would have been nice); and the wear on the tires.
"I'm looking to upgrade to a bigger tractor and a larger grain cart," Spates says. "It will improve our efficiency at harvest, and a more powerful tractor would come in handy throughout the rest of the year."
After taking the tractor for a spin around the dealership parking lot and getting used to the Continuously Variable Transmission (CVT), Spates settled into a chair in the sales manager's office.
Tractors are essential to the farm operation. They need to be matched up in size and horsepower to handle the various implements like planters, plows, grain carts and hay balers used on Spates' farm. In addition, the tractors can be configured to use the power take-off, or PTO, to perform other tasks like running a grain auger or digging post-holes for a new fence.
Buying one is an interesting process, notably different from car buying in several ways:
There's no option for a pearl coat. Tractors come in few colors. Those colors traditionally denote the manufacturer: A Case IH farm tractor is always red; a John Deere is always the iconic green; a New Holland is blue.
While a crucial number to assess wear on a car is mileage, a tractor's wear is counted in hours the engine has been used. "On most modern machines, you'll find an 'hour meter' that keeps track of use," Spates explains. "Combines have two meters — one for engine hours and one for separator hours — which indicate how much the combine was actually harvesting versus running the roads or idling."
Tires are important. A whole new set could cost $10,000!
Can you imagine a dealer offering to call a used car's previous owner to let you know how it drove? Of course not! Every used car was only driven to church on Sundays by a little old lady, right? Well, in the farm world, it's not unusual for a dealer to disclose — or a farmer to figure out on his or her own — the previous owner, and give them a call.
Tractors require some deep pockets or some serious financing, with price tags that run three to four times what an average car does. The used tractor Spates liked the most had an asking price of $130,000, which was more than he had in mind to spend. He spent a week thinking it over and made an offer below the asking price that was rejected.
After coming very close to buying a nice John Deere tractor at auction, but returning home emptyhanded, Spates made another offer on the Case IH tractor he had originally looked at.
This time the offer was very close to the sellers latest offer and he was able to come to a deal. The tractor was delivered last Friday, and Spates is already looking into installing the GPS and controller (computer) to run auto steer.
So, Spates was able to make a deal before the winter thaw, and the tractor will be out in full force.
Hungry for more? Sign up for our newsletter and find us on Facebook, Twitter and Instagram.