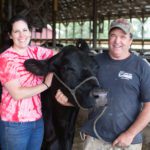 The Fry family of Tuscarora, Maryland, has farmed the land of Rocky Point Farm since 1883. Today, the fourth generation of the family milks about 130 Holstein and Jersey cows robotically, and farms 600 acres of crops, including corn, soybeans, wheat, barley, alfalfa, sorghum and grass hay.
"We spent about two years doing research and weighing the options with robotic milking," Chuck Fry says. "In 2020, we made the commitment and began construction to retrofit our current free stall barn, where the dairy cattle are housed." By 2021, the robotic milking system, which is used to improve the productivity and longevity of cows while reducing the labor hours, was in full swing.
Chuck opted for a robotic milking system after facing labor issues "We made the shift to robotics because labor is hard to find in general, and even harder to find in the dairy industry," Chuck says. "Finding milking help was difficult, and the cost of that was a good portion of what our payments are on the robotic milking system. Plus, the robots are always there and almost always working."
By adding the robots, the schedule and stress of getting cows up twice a day to be milked has been eliminated. The cows are all milked voluntarily, with nearly three daily visits. The cows freely go through a gate that leads them to a holding chamber. Then, the robot reads the ID tag on the cow and determines if it's ready to be milked. If so, the robot sanitizes the udders and begins the milking process.
The robots also test each cow's milk each time she's in the stall. "This helps detect mastitis, which is an inflammation of the mammary gland, days before the human eye would be able to catch clinical signs," Chuck says. "We've been able to catch this and treat with a natural mint balm instead of having to utilize antibiotics and then have to dump that cow's milk due to potential contamination. The robots have resulted in happier, healthier cows."
Chuck and his wife Emily are proud that they are able to use the milk from their own cows to make delicious ice cream in their creamery, which is part of Maryland's Best Ice Cream Trail. The on-farm creamery was added 10 years ago to diversify and help support the farm after getting out of commercial turkey production.
Made fresh each week, over 120 flavors of ice cream and sorbet are offered at the creamery throughout the year. "There's no better feeling than handing a customer an ice cream cone and knowing you had a hand in almost every single step to get that product to them," Chuck says.
Hungry for more? Read about this farm that uses its milk for cheesemaking. Find other tasty, locally made Maryland ice cream.
Sign up for our newsletter and find us on Facebook, Twitter and Instagram.