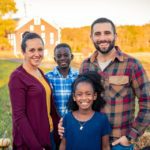 Pack up your camping gear for a one-of-a-kind stay at Willet Family Farm in Carroll County. Located in the middle of 200 acres of farmland, it's completely secluded, providing guests the space to enjoy chasing fireflies and listening to the sounds of bullfrogs at night, and catching the sights of deer, ducks, horses and chickens in the morning. "We purposefully have only one campsite for the whole farm so guests have privacy," says Jeremy Willet, owner of Willet Family Farm.
Activities, like camping, corn mazes and festivals that bring visitors to a farm, are called "agritourism." It's one of the fastest growing segments of agriculture that allows farmers to diversify their income while also providing the opportunity for urban and rural communities to learn more about farming first-hand. Defining farm-stays under the umbrella of agritourism in Maryland was a vital step forward in recognizing that agriculture is ever-changing in order to thrive.
"At a time when we are seeing many families sell their family farms due to lack of interest in traditional agriculture, we are deeply passionate about preserving our family's values and hard work, and honoring them by not only restoring the farm, but returning it to a livelihood that could be passed down to more generations," says Jeremy, who has been renovating the farm since 2017. "We saw the economic and societal values of welcoming camping guests to our farm, and wanted to ensure that this opportunity could be expanded to our neighbors."
Jeremy learned about Hipcamp, an online resource for unique outdoor stays, as a member of Maryland Farm Bureau, and advocated to open the door for this opportunity on his farm. "I testified to the Maryland Senate in support of a bill to revise the definition of "agritourism" to include camping and incidental stays. In May 2022, I was invited by Governor Hogan to attend the bill signing of the legislation to broaden the state's definition of agritourism to include camping and outdoor stays on farms."
This is truly a family affair. Jeremy operates the farm, along with his wife, Kathleen, and family members, Jesse, Whitney and Glen. The family immediately saw the positive impact that providing camping had on their farm and community. "In our first year, we welcomed over 200 guests from nine different states and two different countries," Jeremy adds. "This directly supported our vision of bridging the gap between urban and rural communities." The Willets also created a local guide advertising shops, breweries, restaurants and markets in Carroll County to provide economic benefit to their neighbors.
"The tallest structure on our farm is the windmill, constructed in 1874, and it quickly became the logo for our farm because a windmill is something that harnesses power for a specific purpose," Jeremy says. "For many generations, the windmill harnessed the power of the wind to grind grain or pump water, but now in the 21st century, Willet Family Farm now hopes to harness the power of agritourism to benefit every member of our community."
Hungry for more? Learn more about agritourism. Listen to Jeremy on the MidAtlantic Farm Credit AgVocates podcast. Find other Maryland farms to camp at Hipcamp or Harvest Hosts.
Sign up for our newsletter and find us on Facebook, Twitter and Instagram.