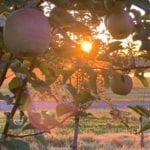 Fall is the perfect time of the year to pack up the family and take them apple picking. This activity is fun for people of all ages from the young toddler to the vibrant grandparent. Apple picking gives everyone a chance to be a part of harvesting their own food and having fun together while doing it.
Throughout Maryland's apple country you'll find over 35 orchards, with many offering pick your own (known as PYO) apples — straight from the tree! This includes Catoctin Mountain Orchard in Thurmont that has been welcoming PYO guests to its orchard for over five years. "I don't know what took me so long to offer pick your own," says Robert Black, who was honored this year as Apple Grower of the Year by American Fruit Grower magazine. "Now we have people coming back every year to check out our latest varieties of apples."
The Blacks first set foot on Catoctin Mountain Orchard in 1948. Robert's father, Harry Black, worked for the owner and helped build the open air farmer's market selling its farm grown apples and peaches. In 1961, Harry and his wife Helen purchased the farm and improved it to include cold storage rooms, irrigation ponds and an apple grader to wash and size the apples. He also expanded his crops to include cherries, plums, pears, vegetables and more.
In the late-70s, Harry added drip irrigation after seeing how well his crops grew after an exceptionally rainy year. "This system uses small electric pumps and miles of tubing that has very small holes that drips water along the rows to feed the crops. This method helps us to conserve water and energy," Robert says.
Now, the second, third and fourth generations of the Black family operate the 100 acre farm. Since Harry's days, the family has built onto its retail farm market, added a fun playground for the kids, and added pick your own flowers and apples.
Before opening his orchard to guests, Robert visited other orchards to see how they operated, and found that he wanted to streamline the PYO apple processes so that visitors could enjoy their day, and not get stuck in long lines at check out. "We greet visitors when they enter and charge them by the bag before they hop on the wagon and enter the orchard," he adds. "This year, we were inundated with people who wanted  to get out of the house, and were thanking us for opening so they'd have something to do."
Robert says that he believes in great apples with crunch, and likes to grow "noisy apples." Catoctin Mountain Orchard offers over 15 unique varieties, like Goldrush, CrimsonCrisp, Stayman, Pink Lady, Mountain Honey and, Catoctin's own, Autumn Gala. This apple was founded at the orchard over 23 years ago on "one limb" of a Gala tree.
Apples are at the heart of Robert and his farm. He is a member of the Midwest Apple Improvement Association, which was founded by growers and is maintained by growers to produce apple varieties that are available to all U.S. and Canadian growers. He joined this group to ensure that smaller farms could have affordable access to new varieties of apples.
"I'm always looking for the newer and better varieties. This year, we have EverCrisp apples available in our retail farm market, and our customers love them," he says. "Next year, these will be available for pick your own."
Robert always encourages people to shop within their community. "Stop in and see what local farms have," he adds. "Support your local farm and the farm will support your community."
Not sure what to do with all of your delicious Maryland apples after you've picked your own? Here are some mouthwatering ideas beyond apple pie:
Dry apple slices for a satisfying, crunchy treat.
Use the slow cooker for yummy cinnamon applesauce.
Serve up some mulled cider for a warming drink.
Add grated apples to pork to make a delicious burger.
Mix chopped apples into holiday stuffing for a tastier bite.
Hungry for more? Sign up for our newsletter and find us on Facebook, Twitter and Instagram.