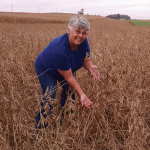 If you asked Belinda Burrier 20 years ago what she'd be doing today, bets are soybean farmer wouldn't be on the list. That's because she married into a farming family. Her husband, Dave, purchased his family's Union Bridge, Maryland, farm in 2002, and Belinda was all in. In addition to soybeans, the Burriers grow corn, wheat and hay.
"Back then, the farm was about 300 acres, small enough for me to jump right in," Belinda says. "Now it's up to 1,250 acres! I learned from the ground up. Even though I didn't have a farming background, I did grow up with my dad being a land surveyor, and I've always liked the outdoors — and I'm willing to try anything. Now, I can run all the machinery and mow the grass; run a combine and unload trucks. Anything I'm asked to do."
Belinda has answered this calling even more, becoming the first woman to hold a position on the Maryland Soybean Board — vice chairman to be exact. "My husband was on the board for nine years and I would go to the meetings with him, so became knowledgeable about the work of the soybean board," she says. She is also a Director on the United Soybean Board and serves on its Executive Committee. Belinda brings diversity to the organizations not only for being female, but coming from a non-farm background. "I was honored to be appointed to the boards and felt I could contribute a different perspective," commented Belinda.
It was the United Soybean Board that encouraged her, and other soybean farmers across the nation, to plant high oleic soybeans. This variety offers a sustainable, highly stable oil product for the food industry and other customers. The benefits of this oil include a neutral flavor, longer fry life, improved shelf life, and zero grams trans fat, which lead to a more heart-healthy product for consumers.
"We grow high oleic soybeans to add value to our farm with a different type of soybean," Belinda says. "Demand continues to grow for high oleic soybeans as they have benefits consumers want. We started with 50 acres and are now up to 500 acres for growing high oleic soybeans."
The Burriers are strong believers in sustainability, and implement multiple conservation practices on their farm. Their commitment to healthy water and soils earned them the 2018 Northeast Region Conservation Legacy Award. Soybeans have proven to be an environmentally sustainable source of protein because of the efficient use of land, water and energy in soybean production.
In Maryland, farmers grow about half a million acres of soybeans, producing more than 20 million bushels of beans each year. Today's soybean farmers can produce a soybean that is higher in protein quality and nutritional value on fewer acres than ever before. With a value of $200 million to the state's economy, soybeans are one of Maryland's top crops.
"Money is tight in a lot of places for many farmers," Belinda says. "In 2012, farmers were getting over $17 per bushel for soybeans; this year it is only half that. Growing high oleic soybeans along with other crops is the opportunity we need to see a return on our investment."
Since the Coronavirus pandemic hit, supply chains have slowed down and farm organization events have been put on hold. So, Belinda has taken to video conferences and her social media accounts (facebook.com/belinda.burrier and instagram.com/burrierfarms) to keep the lines of communications open.
"We want everyone to know that our farms and products are safe and we are moving forward. Although our supply lines are a bit slower, our crops are still growing whether or not there's a virus," Belinda says.
Hungry for more? Sign up for our newsletter and find us on Facebook, Twitter and Instagram.