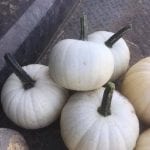 The air is crisp. The leaves are changing. The tastes of belly-warming fall foods make our mouths water. And, folks are looking for outdoor fun. Lucky for you, because you can find it all at a local Maryland farm!
At this time of year, pumpkin patches and fall farm festivals are hot, or might I say cool. There are dozens to choose from in all regions of the state. The best part is that you get to hang out at a farm — many of which are real working farms — and do fun things like pick your own pumpkin or navigate a challenging corn maze. And, if you like a fright, look for haunted corn mazes or attractions. With such a variety of things to do, people of all ages can find something that interests them.
And, come hungry because the food is abundant. Of course it is, you're on a farm! While you're walking around deciding on the perfect pumpkin, nosh on a fresh candy apple. Or grab some crunchy kettle corn while you take a hayride around the property. On the way out, look for a farm stand at the pumpkin patch. Here, you can find fresh items, like locally baked pies and cakes, or locally sourced honey, apple cider, preserves and maple syrup.
Fall pumpkin patches and festivals give folks a great opportunity to visit a Maryland farm and enjoy it for the day. These activities can also showcase local products, like maple syrup, that people may not otherwise know is made at family-owned farms in Maryland.
Keep in mind that not all farm festivals offer the same activities or foods, so best to check their websites before you go.
Also, many farmer's markets are still open. Look for seasonal favorites, like pumpkins, winter squash and sweet potatoes. Don't forget to purchase a locally grown mum to add fall beauty to your kitchen table or front porch. Grab your favorites before the season is over.
"Get out and enjoy all that your local farms have to offer! It's been a tough year for those of us growing produce, including everyone's fall favorite, pumpkins," says Kayla Griffith of Lothian, Maryland's Griffith Family Produce. "Many farmers did their best, but with so much rain this year, many had to supplement their pumpkins from Midwestern states."
Farmers always try to manage economic losses, but this year was exceptionally rough. "Any business you can provide locally is a huge help. If you can afford one extra pumpkin or one more hay ride, it could mean the world to that farmer," adds Kayla.
Nothing says fall like food and fun on the Maryland farm. Now go out and get some fresh air — and a candy apple.
Hungry for more? Sign up for our newsletter and find us on Facebook, Twitter and Instagram.