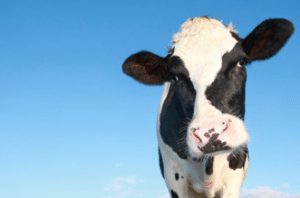 (FRIENDSVILLE, MARYLAND) – It's 7 a.m. and "the girls" are already lined up, tails swishing impatiently as Garrett County farmer Billy Bishoff switches on the lights in his family's milking parlor.
Cows have been a central part of life on the farm here since 1958, when Billy's dad, George, bought a herd to diversify the farm income.
"Having cows is like having 100 kids," Bishoff quips. "Every morning you go out and somebody has gotten into trouble somehow. Somebody might need the vet. Somebody broke through a fence. Somebody's not getting along with somebody else."
They milk "on the 7s" — that's 7 a.m. and 7 p.m. — twice a day, every day, even Christmas. Their farm is the last dairy in the Friendsville area, and one of a few remaining in Garrett County. And soon, when Bishoff reaches for the parlor's light switch, it'll be for the last time.
"The number of dairies has been dropping for the past 80 years," he explains. "We simply produce more milk than the market can consume. That leads to drop in prices, and that ends up forcing some people out of business."
Dairy prices, like those for all farm commodities, have their ups and downs. But right now – in early 2018 – the dairy industry in Maryland and nationwide has experienced an extraordinarily extended downturn that began in 2015. It's costing farmers more to make milk than they receive from their buyers, and that's a situation that many dairy farmers can't afford to wait out.
While many farms are facing foreclosure, for the Bishoff family, transitioning out of the dairy has been in their plans. "It takes continuous investment in technology and the farm's infrastructure to operate at peak efficiency. And for us, as a smaller dairy, we couldn't achieve the economies of scale and return on investment we would need to justify reinvesting in new equipment," Bishoff says. "It's time to wind it down."
It's a business, after all, but it's undeniably poignant to close this chapter. Bishoff pauses then adds, "Dairy farms are part of the texture, part of the character of the rural environment. As we lose these farms we lose that texture, that quality."
His family is pondering new ideas to keep the 350-acre farm thriving: Besides raising corn, soybeans and hay, the family may graze some beef cattle. And, because it is Garrett County, they can tap into maple sugar production (pun intended). Meanwhile, other dairy farmers have explored value-added enterprises, like making and selling cheese and ice cream.
Stay tuned as the Bishoff family begins a new chapter.
Hungry for more? Sign up for our newsletter and find us on Facebook, Twitter and Instagram.