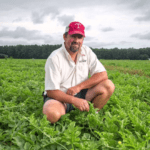 Now that summer is over, fewer vacationers are heading to the beach. But that doesn't mean that our favorite Eastern Shore farm markets, like Wright's Market in Mardela Springs, are slowing down.
Wright's Market has been a staple on busy Route 50 for decades. "My grandfather bought the farm in 1939 with about 60 acres. He started a produce market in the mid-1970s with a wagon and card table. He did well, so he did it again the next year and brought an umbrella," says Charles Wright IV. "My family grew wholesale produce, so if they had extra, they would sell it roadside. What started as almost nothing has become the big operation that it is today."
The market, which sits on the edge of Charles' 800-acre Cornerstone Farms, sells its own homegrown produce and a wide selection of other goods. "Produce is still number one." Charles says. The farm is divided between vegetables, like pumpkins and sweet potatoes, and row crops, such as corn and soybeans. You'll find this produce at the market along with cucumbers, tomatoes, peppers and fall seasonal favorites including apples and a variety of squash, like butternut and spaghetti.
The market isn't the only attraction. During the last week of September and into October, they have a corn maze, pick your own pumpkins and school tours. "Last year, we had zero tours due to the pandemic. This year, we're expecting to have 4,000 students throughout the season," Charles adds. "It's all about ag education. I want people to remember some tidbit about farming. So if a student sees or hears something negative about farming in the future, they will remember 'that's not what Mr. Wright said.' "  
To further encourage ag education, the corn maze has multiple stations that prompt visitors to stop and learn while enjoying the twists and turns of the maze. Visitors can read the information on the posted boards and scan QR codes with their mobile phones to bring up a video. "When the kids come here, they are ready to run and enjoy farm freedom," Charles says. "We try to sneak some ag questions in too. There are questions geared for kids and some for adults."
Last year when the COVID-19 pandemic hit, things were different. "Since we couldn't do tours and u-pick last year, we delivered pumpkins to the schools and made a video the teachers could use in their lesson plans. In the spring, we did the same thing with strawberries. We adapted and it worked out well," he adds. 
The farm market also had to adjust. "In Spring 2020, we saw an increase in business. People didn't want to go to grocery stores in the beginning of the pandemic. We had many requests to open the store, so we opened the first of May and were welcomed with tons of people. Customers felt comfortable here because we're an open-air market and they could get everything," Charles says. "It was something to be a part of. We worked with the health department on requirements. Everything was wiped down and people wore masks. I noticed that customers were patient and respectful, which was not the same spirit in a lot of shopping environments. Most people coming here were local. There was a need and we were glad we could fill it for our community." 
This year, Wright's Market has retained many of the customers that discovered them during the pandemic. "It was nice that we could provide for our community and our community supported us," Charles says. "That's how it should be."
Hungry for more? Discover more local farmers markets. Learn what's fresh and plentiful for fall. Read how this winery succeeded during the pandemic.
Sign up for our newsletter and find us on Facebook, Twitter and Instagram.