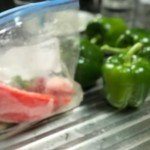 Fall's here! You may not miss the dog days of summer. But what you might miss is fresh produce from your local farmers or your own garden. Hopefully, you were able to stock up on your favorites before the end of the season. So, what can you do with your surplus of tomatoes, peppers and other produce before they go to waste? And how can you add that taste of summer in your meals during colder months?
Ann Richards of Leonardtown has a simple way to save tomatoes. Instead of canning, which is great if you have the time, she puts cleaned, whole tomatoes into sealed bags and pops them in the freezer. Then, during the colder months, she can take out as many tomatoes as needed and use them in soups or stews. Once the meal is cooking, the skins will start to split and curl and easily peel away from the tomato. The skins can be fished out of the dish, and then, violá, dinner is ready.
If you haven't frozen any tomatoes to use over the winter, try roasting store-bought cherry tomatoes in a 450-degree F oven for 20 minutes before using them. The process brings up the sugars and deepens the flavors. (You can freeze any leftover roasted tomatoes, too!)
Nora Clark from Clark's Elioak Farm in Ellicott City embraces the new season. She loves to stuff winter squash as a way to use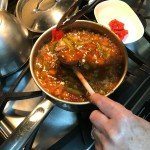 everything from the garden. Tomatoes, peppers, summer squash and any type of greens can all be sautéed and stuffed inside a winter squash, like acorn or spaghetti squash. Nora suggests storing produce properly and making sure to use any produce that has a split or soft spot first.
Meghan Ochal of Dicot Farm in Waldorf keeps her cooking fresh by turning to seasonal favorites like acorn and butternut squash and properly cured sweet potatoes, which can keep through winter if stored properly. Finally, a lot of farmers are using unheated greenhouses to grow mostly greens through winter. This makes it easier for consumers to find things like salad and greens at farmer's markets that are open year-round.
Need more tips to preserve that taste of summer? Visit University of Maryland Extension Food Preservation for more helpful tips.
So, when you're sitting in front of a fire thinking about the beach, break out some produce that you've saved for a sweet taste of summer, and daydream about the warm months ahead.
Hungry for more? Sign up for our newsletter and find us on Facebook, Twitter and Instagram.