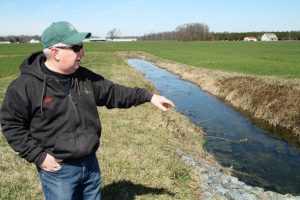 During the Great Depression, when the Hutchison family bought a farm on Maryland's Eastern Shore, farmers used horse-drawn tools to plow and harvest fields.
"We have come a long way since my great grandfather started this farm," said Travis Hutchison, now the fourth generation of his family to farm the land. Travis works with his father, four uncles and other family members.
Today, Travis farms about 3,400 acres with his cousin Kyle. Each generation has diversified the farm to grow products that appeal to buyers — they've even produced Christmas trees. Today the Hutchison Brothers Farm grows soybeans, corn, barley, wheat, peas, lima beans and pickling cucumbers.
"Environmental stewardship has been the key to pass down the farm from generation to generation," commented Travis. "It is critical to success when a family wants the farm to continue."
The Hutchisons have always looked to innovative techniques and the latest technology to farm as efficiently and sustainably as possible. One method they've put into practice is using a woodchip bioreactor to help keep excess nitrogen from entering the water system.
"We fill a trench with wood chips and biochar to act as a natural filter for water draining from a field," Travis explained. "Similar to a wetland, the bioreactor removes both nitrogen and phosphorus from the water."
Another advancement in farm technology is GreenSeeker, a system using sensors and computerized applicators to apply just the right amount of fertilizer. Using optical sensors to assess how each plant is growing, the computer program then varies the rate of fertilizer applied to that crop based on what it senses the plants needs. This precise fertilization makes for healthier plants and fewer excess nutrients washing into waterways.
"We want to care for our land for more Hutchisons to farm after me," Travis concluded.
Check back for more about the Hutchison Brothers Farm and how the family cares for the land while growing this season's fresh farm products for you.
Hungry for more? Sign up for our (email/blog) and find us on Facebook, Twitter and Instagram.