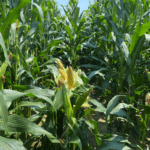 There's nothing like the taste of fresh sweet corn on the cob topped with butter and a sprinkle of Old Bay Seasoning. This familiar variety of corn is grown throughout Maryland and can be found at farmers markets statewide. But, there's another type of corn more commonly grown in the state that's not for human consumption, field corn.
At Diamondback Farms in Hurlock, Maryland, field corn is an integral part of the farm's crops grown for use in the chicken industry. "We have roughly half of our 1,900 acres in corn every year. We grow field corn, which is mostly used for chicken feed," says sixth generation farmer Jason Scott whose family farm, formerly known as Walnut Hills Farm, was inducted into the Maryland Century Farm program. "By far, the largest use of corn in our area is for feed. Corn makes up a very large part of the chicken's diet."
There are differences between the sweet corn we eat and the corn fed to farm animals, like chickens and cows. In Maryland, 8,300 acres are used to grow sweet corn compared to 425,000 acres for field corn crops. It's harvested during the summer when the husks just start to brown. The other 99% is grown as field corn, which is taller than sweet corn and has thicker leaves. It's left in the fields until the full plant is brown and the kernels are dry for processing (not very tasty for humans!). In addition to animal feed, it's used for products like cereal flakes, sweeteners and corn chips.
There are also thousands of non-food uses, including dish detergent, glue and crayons. "Corn is used in ethanol production, a renewable fuel that is reducing carbon emissions every day," Jason says. "Corn is also used for many other industrial needs, including biodegradable plastic."
And, innovation doesn't stop there. Farmers continually seek to improve production to grow more using less land and inputs. "This year, we are planning to enter the National Corn Growers Association yield contest, so we have a couple of fields that we are paying very close attention to and spending a lot of time scouting and applying nutrients and fungicide as needed to maximize yield potential," says Jason, who also operates a Pioneer Seed dealership. "Last year, we did that on one of our research plots for the seed company and had six different varieties top 300 bushels per acre!" That's pretty remarkable considering an average acre of corn yields 100 bushels.
Regardless of the variety, corn plants have the same parts. According to Maryland Grain Producers, corn develops tassels near the top of the stalk, this is considered the "male" flower. Silk begins to form, which is the "female" flower lower on the stalk. The silk is very similar to the hairs on sweet corn. These silks develop on the corn cob and each silk corresponds to a single kernel. Each kernel must be pollinated and fertilized to completely fill the ear. And every ear has an even number of rows, most commonly 16, and 800 kernels. 
So, next time you take a bite into a sweet ear of corn, know that there's more to it than good eats.
Hungry for more? Learn more about corn production. Read about this grass that's grown for chicken bedding. Try this Maryland-style corn on the cob recipe.
Sign up for our newsletter and find us on Facebook, Twitter and Instagram.