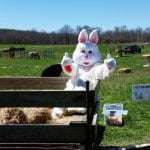 (WOODSTOCK, MARYLAND) Strohmer's Farm is home to a variety of animals, including cows, pigs, goats, donkeys, chickens, ducks, a token emu, barn cats and a number of dogs. But, Strohmer's Farm didn't start out that way.
In 1931, George L. Strohmer, the grandfather of the current owners Bud, Dee, Richard and Brenda, purchased the farm. Along with his wife and five-year-old son, George Joseph, he hauled his equipment, animals and personal items over 30 miles to settle in what would become a family home for three generations. The farm's initial offering included fresh milk, cheese, butter and eggs. At some point, the decision was made to add other livestock to the farm, focusing on meat production, such as cattle, pigs and goats, which has been a mainstay of the farm ever since.
"We are a real working farm," says Brenda Strohmer, one of the four siblings who manages the 100-acre farm in Baltimore County. "We are reaching out to the community and inviting them to our home. We are getting to know each other. We want to expose our community to our way of life, who we are, and what we have to offer."
The family has been adding fun and innovative educational experiences to teach the community about agriculture, part of the "agritourism" trend in agriculture today. Agritourism is where farming and tourism combine to provide amazing educational experiences, whether it be a farm tour, an event, like an Easter egg hunt, or a class, like goat yoga. Farmers turn their land into a destination in order to teach more about what they do. Maryland has more than 12,000 farms, and you can search for farms that welcome agritourists here.
"The farm our grandparent's and our parent's legacy and now part of our heritage," says Brenda. "It was our playground, where many scrapes, bruises and scars were earned. Many lessons we learned on the farm that are not taught in schools. As kids, we all had chores, which led to eclectic skills that all equate to a farmer's handbook."
"Although it requires a lot of work and dedication, we love the farm, the animals, and we enjoy farming. We value the freedom and the big open spaces, and we want to share this with our community."
With each season comes an opportunity to visit Strohmer's farm. "Agritourism events, like our annual Easter egg hunt, allow for folks to interact with our animals as well as to promote our antibiotic- and hormone-free meats," says Brenda.  
This event is only the beginning. Brenda says that they will be expanding to include other activities that focus on agritourism to help the community better understand agriculture and how important it is for the state of Maryland. Brenda is planning new programs that provide a closer interaction with the animals, including the nutritional value of meat grown on the farm, and education regarding the benefits of shopping local. "It's more important than ever for people to know where their food comes from, and what's in it," she adds.
And, she's also introducing a "Farm Fit" program, which centers around a farm life regime tied to chores and harvest. It would also be aimed to help participants understand the health benefits of meat that is naturally raised. And, of course, it would include the ever-growing and popular goat yoga.
Hungry for more? Sign up for our newsletter and find us on Facebook, Twitter and Instagram.