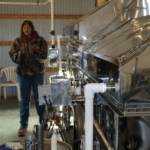 It's maple syrup season in Maryland. Did you say Maryland? When most people think where this breakfast staple comes from, New England probably comes to mind. Yet, more local farmers are getting into the action.
In Maryland, there are about 25 farms that harvest maple syrup and produce almost 4,000 gallons per year. The bulk of that comes from farmers in Garrett County, including Annetta and Charles Enlow of Sleepy Hollow Farm outside of Friendsville.
The Enlows weren't always in the maple syrup business. The strain of the dairy industry in the early 2000s led the dairy farmers on a different path. "When the price of milk bottomed out in 2009, we realized that we needed another source of income to supplement the dairy," Annetta says. "My sister and her husband who have a maple syrup and dairy farm in Pennsylvania encouraged us to see how many maple trees we have. We were amazed how much of our woodland contained maple trees. Once we realized that we had the natural resources to make maple syrup, the planning began."
Annetta and Charles spent that summer and fall building a sugar camp to collect and process the sap, purchasing and installing equipment, and connecting maple trees with tubing in the woods. In the spring of 2010, they were in the maple syrup business. The Enlows tap 4,500 maple trees and produce up to 800 gallons of syrup each season, which begins in February and lasts up to six weeks depending on weather. It takes them about 80 gallons of sap to make 1 gallon of syrup because most of the trees are red maples, which have a lower sugar content.
To harvest the sap, they use an innovative system. "We use tubing because in some ways it is less work intense than using buckets," Annetta says. Their neighbors, the Bishoff family, have a traditional maple syrup operation that has produced syrup since 1900. "But there is also a lot of labor involved in keeping the tubing in good working order and without leaks. The deer, squirrels and even bears do a lot of damage to the tubing, so we walk the lines daily during the season to check for and repair damage."
Once the trees are tapped, the vacuum pumps are turned on to help draw the sap out of the trees. The sap looks like clear water running through the tubing to a large holding tank. The sap is transferred to another holding tank where it goes through a machine to remove some water. Then, it's on to the evaporator where the sap is boiled until it becomes syrup. The syrup is then pumped through a filter press to remove any impurities, like niter (sugar sand), that occur in the boiling process. 
"We store our syrup in 40 gallon barrels, and bottle it into many sizes of retail containers throughout the year as we have demand for it," Annetta adds. "We also make maple sugar, maple candy, maple hard tack, maple-coated peanuts and nuts, maple fudge and maple cream. I enjoy experimenting with different maple recipes, so our customers are never sure what to expect when they stop in at our farm to buy our products."
Interested in other uses for maple syrup? Enjoy it as a sugar substitute to sweeten coffee, tea and baked goods, like maple bacon scones. Or add maple syrup to meat marinades, salad dressings and even cocktails. Any way you serve it, maple syrup is making its tap on Maryland.
Hungry for more? Pour some sweet maple syrup on homemade scrapple. Buy Maryland-made maple syrup.
Sign up for our newsletter and find us on Facebook, Twitter and Instagram.