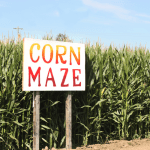 (GAMBRILLS, MARYLAND) – The twists, turns and amazing designs! Winding your way through a corn maze has become as essential to autumn as a pumpkin spice latte. These paths, hidden by high stalks of corn, are confusing, frustrating, exciting and — when you finish — triumphant. If you're crazy for corn mazes, many farms across Maryland have the answer.
The largest corn maze in the state is located at Maryland Sunrise Farm in Gambrills. This land was once the U.S. Naval Academy Dairy Farm. It's now owned by Anne Arundel County and leased by the Fry Family, who've been farming for five generations. With 570 acres in production, it's the largest single parcel of farmland in the largely developed county. The farm raises beef and a wide variety of vegetables, most of which are earmarked for subscribers to Community Supported Agriculture (CSA) groups. (Those are groups that provide produce and meat from local farmers to individual subscribers.) When the farm opened the first Maryland corn maze in 2006, it was an experiment. It has since become a fixture for the farm and the community.
According to Carol Paul, the maze manager, a lot of thought goes into the planning, designing and creation of the maze.
Working with a professional maze designing firm, they created a Harry Potter-themed maze for 2019. Viewed from above, there are wandering paths, dead ends, short cuts, and no direct line from the entrance to the center of the field.
Taking the maze from design to completion is an involved process. "We start by planting all of the acres with field corn," Carol says. That's the type used as feed for livestock, not the edible, corn-on-the-cob variety.
"We go high-tech after that. We use GPS to lay out the design on the ground. Then we apply weed killer along the design so that the corn will not grow there," Carol adds. "During the summer, we keep up the paths; mow and trim to keep the weeds down; and do what we can to keep the deer out." For deer, 8 acres of corn is as attractive as the all-you-can-eat buffet at Golden Corral. Even a small herd of deer can consume most of that corn in only a few nights.
Many Maryland farmers use GPS on their farms to monitor yields during harvest or to keep close track of where fertilizer or crop protection chemicals are applied. With equipment that is accurate within about 3 to 8 inches, "precision agriculture" has become commonplace in the state.
Managing the corn maze keeps Carol and her staff busy. "It's easy to get lost and people can get frustrated," she says. "We give everyone a flag that they can raise to signal for help. We have 'corn cops' equipped with walkie talkies to help lost patrons. There's a lookout posted at the top of the 24-foot-high tower in the center of the maze who watches over everything. On Friday nights, we open the maze after dark, so people can try to find their way with flashlights."
Maryland boasts a lot of corn mazes across the state, each offering a lot of agricultural and farm-oriented activities in addition to the maze. Visit Maryland's Best to explore a corn maze near you, then pick up a latte on your way to the farm.
Hungry for more? Sign up for our newsletter and find us on Facebook, Twitter and Instagram.