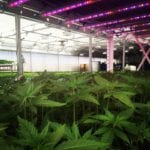 Washington County's South Mountain MicroFARM is taking a new approach to farming with its aquaponic greenhouse by growing some usual produce, along with a not-so-common crop, hemp. "In 2018, we joined the Maryland Hemp Pilot Program and became the first in the U.S. to commercially produce hemp using our aquaponic methods," Levi Sellers says.
This 22-acre farm was originally a Christmas tree farm that Levi purchased in 2015 along with his family. The farm had sat unused for years before the Sellers family took over. "For the first year, my father and I worked to bring the Christmas tree farm back to life," Levi recalls. "We removed a lot of brush and vines, hand-planted thousands of new trees, and trimmed the existing trees back into shape." Yet, due to some unforeseen circumstances including a disease that was wiping out their main species of tree, Douglas Fir, the family decided to look for other options.
This dilemma led Levi to go after a long-held dream — to build a greenhouse with an aquaponic system that would provide year-round production. Aquaponics is a system of aquaculture where the waste produced by farmed fish supplies nutrients for plants grown hydroponically, which in turn purifies the water. "We currently grow our hemp using our eco-system approach," he explains. "In a controlled greenhouse environment, we use a closed-loop aquaponics system to cultivate our hemp using hydroponic methods, using only the effluent of the fish to fertilize and irrigate our crop."
What types of products can be made from hemp? Some say there are over 50,000 different products. Generally, the hemp plant can be harvested for its seeds and stalk. Hemp seeds are high in protein, comparable to soybeans. Hemp oil can be used in foods and body-care products. The fibers from the stalk can be used for clothes and paper. In addition, the stalk's "hurd," or woody core, can be used to make building materials, like insulation and particle board. "Hemp is not a new agricultural product and has been used for thousands of years in many cultures across the world," Levi says. "We are just witnessing its revival."
South Mountain MicroFARM offers a variety of raw hemp flowers that can be used for do-it-yourself selfcare items as well as for smoking purposes. They also grow a baby hemp leaf that can be used as a substitute for kale. Levi says that given hemp's high nutritional value, ability to hold up well to heat and unique flavor profile, many customers and restaurants have found it to be a great addition to recipes. In addition to hemp, they also grow seven types of leafy greens, like romaine, butter, oak, arugula and microgreens.
"Providing the highest quality products that improve not only the health of our customers, but also the community and the eco-systems that surround us, has always been our commitment and hemp fit right in line with our mission," Levi says. "By applying our unique method of production, we can help to provide a more sustainable method of year-round production of hemp."
Hungry for more? Try one of these recipes using hemp. Learn more about micro farming or Maryland's Christmas tree farms.
Sign up for our newsletter and find us on Facebook, Twitter and Instagram.