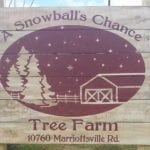 (RANDALLSTOWN, MARYLAND) – December 2018 – Jamie Condon smells like pine sap from Thanksgiving through Christmas. It's an occupational hazard. Along with her husband, Kyle, and their two children, she runs A Snowball's Chance Christmas Tree Farm, a cut-your-own operation.
The farm started on a whim, explains Jamie. She and Kyle were next door neighbors who fell in love. A few weeks before their wedding, Kyle said he wanted to plant some kind of crop on the acre of land behind what was about to become their home. Jamie's dad joked that they should plant Christmas trees.
"We thought that was a good idea, so we were on our hands and knees the week before our wedding planting 200 baby trees in our back yard."
As time went on, the farm expanded to 1,000 evergreens on 8 acres. Their family expanded, too; first, a daughter, then a son. "We would strap the babies to our backs or onto the tractor while we worked. Now, our 11-year-old daughter runs the register at the sales barn. Our 9-year-old son helps newbies with cutting the trees, dragging them to the barn, and tying them onto cars. It's hard work, but we teach them that if you work hard, you play hard," she says, explaining that proceeds from the tree sales pay for a family vacation in January.
One of the nicest benefits of the business is seeing repeat customers. They've been open eight years, and some customers have visited to find their ideal tree each of those years. "We've built up friendships and rapport. We've watched their kids growing up and they've watched ours," Jamie says. There is a lot of visiting in the sales barn over mugs of cocoa and cider. They also have plywood cut-outs for novelty photos and bring in some animals from their livestock farm a mile away, which is where they live and work for the other 11 months of the year.
Come spring, the Condons start renewing the forest. "Each year, we plant between 200 and 300 trees. There's no rhyme or reason to the plantings. They are planted wherever there is an opening where a tree was cut down. You might find a seedling next to a 10-foot tree in an opening. It gives the customers a reason to wander and find the right tree instead of being kept in a pre-planted area."
Buying a live tree is more than a nostalgic tradition, it's good for the environment. The Maryland Christmas Tree Association points out that live trees are an ecological boon, by absorbing carbon, providing wildlife habitat, and stabilizing soil and water resources. Artificial trees, on the other hand, are non-recyclable, often manufactured with toxic materials, and are often not fireproof.
The shortage of pre-cut trees from North Carolina and elsewhere both last year and this have panicked many tree shoppers. "People thought there were going to be no trees anywhere last year, so they overloaded the local tree farms with demand. We were swamped last year and had to close early. We will probably have to close early this year, too," Jamie says. "It's inventory management. We sell about 125 trees each year. It takes about eight years for a tree to grow tall enough to be cut. If we allowed more trees to be cut, we wouldn't have any trees in a year or so."
In picking and caring for a tree, Jamie has three suggestions. First, look for a tree with a straight trunk so it will stay balanced in the tree stand. Second, give it a lot of water to drink in the first week. Third, keep the tree away from fireplaces and heat registers, to keep it from drying out. The National Christmas Tree Association has more tips.
Are you looking for a cut-your-own tree farm? There are nearly 100 members of the Maryland Christmas Tree Association. Their website has a county-by-county directory of farms.
Hungry for more? Sign up for our newsletter and find us on Facebook, Twitter and Instagram.