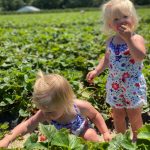 North Waldorf's Shlagel Farm has been growing since the early 1900s. The land was first purchased by Otto Shlagel, an immigrant who was lured to America by advertisements he saw in Germany. Before passing the farm to his son George, Otto left behind this mantra, "If we don't take care of this land, it won't take care of us."
Today, the farm is operated by third and fourth generation farmers, George's son Russell along with his sons, who , continue to live and breathe by those words., Now they do even more to take care of the surrounding community by providing their products locally.
"Shlagel Farms grows a wide variety of fruits and vegetables from asparagus to zucchini," Russell says. "Our favorite crop is always strawberries because of the degree of difficulty and challenges with growing them, as well as the daily interactions with customers coming to our farm to pick them."
The popular pick-your-own strawberries patch draws visitors to the farm to enjoy a day roaming the fields picking their bounty. It is just one of the many ways that Shlagel Farm's produce enters the food chain.  
"We sell direct to consumers right here on our farm and also at farmers markets in the Washington, D.C. area," Russell says. "We sell to a company that provides food for a local school system and we're happy to send other produce to companies who deal with imperfect, but healthy, produce."
The Shlagels also donate to food kitchens and organizations that feed the homeless, as well as providing fresh produce to food insecure families. "We really love the fact that what we grow here on our little piece of land is so valuable to so many people," he says. Additionally, the farm's produce can be found in grocery stores and local restaurants.
Russell and his family think that aside from the fact that buying local lessens their carbon imprint by keeping travel distances short, produce is always fresher when purchased from local farms. He adds that it's important to keep spending dollars in your own community.
"We'll always choose a family-owned business when we are spending our hard-earned dollars," he says. "It becomes meaningful when you understand that we are all interconnected and as a society we all depend on one another. The church that we make food donations to sends us customers from their congregation. We see this reciprocity happen in many ways."
Recently, Shlagel Farms added a modified CSA, which stands for community supported agriculture, run by Russell's son Karl and his wife Apryl. This program, which has expanded due to the pandemic, allows people to purchase online, pay without contact and have a box of fresh produce each week. "It has been wonderful for our customers and good for us as well," Russell says.
When the Shlagels receive an email thanking them for providing a safe food delivery, it makes all the hard work worth it. "That's what buying local is all about," Russell says. "It's about establishing relationships with other people in our community through buying locally."
Hungry for more? Sign up for our newsletter and find us on Facebook, Twitter and Instagram.