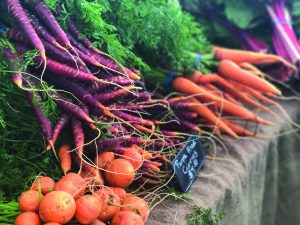 Floppy hat: Check. Reusable grocery totes: Check. Fistful of cash: Check.
You've got the FM basics. Now, are you ready to take it next-level? We asked three Maryland farmers for the skinny on how to shop like a pro. Ready? Here's their advice:
Don't worry about being first. After the mad rush of the first market hour, the crowd thins, tables get restocked and best of all, there's more time to talk to farmers. If you're worried about missing out on a favorite, see our next tip …
If you want something specific, like four pints of Sungold cherry tomatoes or a half-bushel of green beans to freeze, order ahead with your favorite vendor, advises Priscilla Wentworth of Anchored Roots Farm in Hollywood, Md. "We actually like it when people order ahead of time. It helps us plan how much to harvest and bring to the market," she explains.
Bring insulated totes along with your grocery bags. Locally raised meats are typically sold frozen in Maryland, says Jamie Tiralla of Monnet Farms in Prince Frederick, Md. An insulated tote or cooler keeps the meat safely frozen until you get home.
Never had Romanesco before? Ask for a sample, and ask the farmer for preparation tips, urges Kayla Griffith of Griffith Family Produce of Lothian, Md. "We eat, or freeze or can the unsold leftovers from the markets for our family to eat," she says. "We're happy to give you a sample and a family recipe. You might find a new favorite!"
Sometimes it takes an extra step or two to prepare produce or meat from farmer's markets, but the quality and the fact you're supporting your local farmer and economy make it worth it, all three women say. "You have the extra step of thawing our meat," Tiralla says, "but it's frozen at its prime to lock in quality."
Make a budget, and consult a seasonal produce chart to see what's at its peak right now.
Keep an open mind. "When it comes to produce, some people immediately write us off because we aren't certified organic," Griffith says. "But I want to talk to them about my use of Integrated Pest Management and safe pesticide use. And how my two-acre garden goes into the larger farm's no-till rotation for a few years, and how that helps the environment. I don't get upset that you buy the organic blueberries from the stall next to me. Those farmers are my friends and we share a lot of the same beliefs and practices. I think people would be surprised how many practices are common to organic and conventional farms."
Maryland provides incentives for people to in federal nutrition benefits programs to shop at farmer's markets. Learn more through the Maryland Farmers Market Association.
Hungry for more? Subscribe to our mailing list and find us on Facebook, Twitter and Instagram.