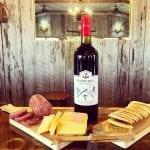 (CARROLL COUNTY, MARYLAND) – From light, fruity and bright white wines to dark, smoky and oaky reds, Maryland wineries offer something for every palate – and promise adventure, opportunities to educate that palate and unique experiences when you visit.
We put together this Insider's Guide to help you make the most of Maryland's wine culture.
When choosing your trip route, it's generally recommended to focus on no more than three or four wineries a day.  This will help you avoid palate fatigue, and to absorb each individual winery's atmosphere and flavor. "Maryland has 10 wonderful wine trails that meander throughout every region in the state, and they not only feature fabulous vineyards and wineries, but also Maryland mead and cider," says Shelby Watson-Hampton, of Robin Hill Farm and Vineyards, a member of the Legacy Wine Trail in Southern Maryland. "We encourage everyone to venture out and enjoy the Maryland countryside, to meet their local farmers and vintners, and to #DrinkLocal and #BuyLocal."
Call ahead to ask if you can bring food. If you're doing multiple tastings in a day, you'll need something in your tummy, and even if you're staying in one place, it's nice to have a picnic. As long as they're allowed. Another question to ask ahead of time: Is Fido allowed? Not all vineyards are pet-friendly. Better to ask ahead.
Find your favorite Maryland-grown grape, and sample from there. "Terroir" is a French term used to explain regional differences in the taste of the same variety of grape. The soil, its minerals, water-holding capacity, drainage and weather all play into the taste of the grape, and that varies by year. Here are some typical Maryland wine grapes you can compare at different wineries:
Chambourcin – A hybrid, Chambourcin produces lighter-bodied red wines with higher acidity, and tends to be dry or semi-dry.
Cabernet Franc – This French varietal is often a medium-bodied red wine with a bright, herbal taste. Taste around and see if you can identify the notes of green bell pepper, which is a hallmark of this grape.
Vidal Blanc – Maryland Vidal Blancs tend to be off-dry whites with dominant floral notes, a slight citrus flavor and hints of pineapple.
Barbera – Although Barbera is a European varietal, the grapes are popular with Maryland producers. Often oak-aged, it's lighter in body and color than a Cabernet Franc, with notes of red fruit and sometimes spice.
Viognier – Viognier grapes are well-suited to the Maryland climate, and produce a white wine that is distinctly floral with strong peach and honeysuckle notes. Sometimes aged in oak barrels, it will then take on a vanilla tone. While generally a dry wine, its fruity flavor will please a sweet-leaning palate.
Interested in wine pairings? The Maryland Wineries Association has advice: "Your char-grilled favorites will pair well with both Chambourcin and Cabernet Franc. Chambourcin can be light and fruity or rich with dark cherries and spice and can complement everything from grilled tuna, salmon to chicken and vegetables. Cabernet Franc is more of a powerhouse, needing something heavy – like steak – to pair with its medium-to-full body and bold tannins."
Take pairing to the next level by building a whole dinner party around Maryland's Best produce, seafood and meat and Maryland wines! "The great thing about Maryland wineries is that you can find something for everyone," says William Layton, winemaker at Layton's Chance in Vienna, Md. "There are traditional dry oaky wines, sweet wines, wineries that specialize in fruit wines, meads, or sparkling. No matter what your taste, there is something for everyone."
Gotta sample before you commit to a bottle? Maryland's wine festivals are for you! Find more info on special events and wine trails at www.MarylandWine.com.
Want to immerse yourself in wine life? Maryland wineries always looking for volunteers. From planting vines to harvesting grapes to bottling wines and pouring in the tasting room or at events, you can indulge your inner sommelier and help out a local business at the same time. Bonus: You'll almost always be repaid in good food, hospitality, and wine. Visit, inquire, and most importantly, if you volunteer, be sure to show up.
Hungry for more? Sign up for our newsletter and find us on Facebook, Twitter and Instagram.
Photos by Shelby Watson-Hamptom/Robin Hill Farm & Vineyard