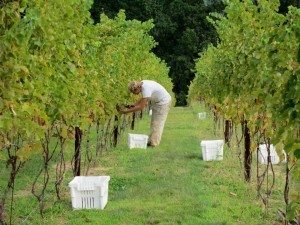 There's nothing better than sipping an exceptional wine. But, sometimes, we take for granted what makes a wine so good: great grapes and skillful winemakers. In Maryland, there's no doubt that our winemakers have the expertise. It's the unpredictable weather that makes each harvest season challenging. Fortunately, for Maryland winemakers and wine drinkers alike, the weather this year called for a fantastic harvest.
How much do you know about the grapes that go into making your local wine?
The grape ripening season begins in mid-July to mid-August. This is the time, called with the veraison period, when the hard, green, berry-like fruits that hang from the vines begin to ripen. In 2017, the fate of the grapes looked dim. Too much early rainfall caused increased disease pressure leading to poorer quality of some early harvest varieties.
Luckily, the very warm and dry end of August into late-September compensated for any drawbacks of the wet months. Winemakers were able to take the appropriate disease management measures to maintain the quality of the remaining leaves needed for ripening. The next two months of warm days helped sugar development in the grapes, while the cool nights retained the fruit's acidity and aromas. This wonderful ripening weather reassured growers that their harvest would be far more successful than anticipated earlier on in the season.
"I ask people, 'If you could ask for two to three weeks of perfect weather, where would you put it in the growing season?'" said Dr. Joe Fiola, specialist of viticulture and small fruit for the University of Maryland Extension. "And, almost without a doubt, everyone says the last three weeks before harvest, and that's exactly what we got this year. We got just about perfect weather right before harvest."
As if erratic weather doesn't make grape growing complex enough, different grape varieties require specific practices and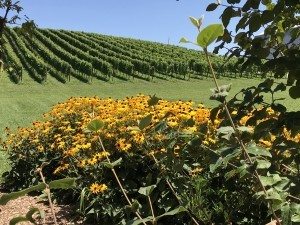 conditions, such as types of soil, sugar and acidity levels, and grape-growing practices, known as viticulture, to achieve maximum quality. This year, many vineyards in the Eastern Shore region were fortunate that the sandy soils their grapes thrive in allowed for much of the early season wetness to drain well.
"The grower's balancing of the elements and nature is the most important aspect of attaining good quality fruit that will enable the wineries to create wines that are truly an expression of the state of Maryland," said Judy Crow, president of the Maryland Wineries Association and owner of Crow Vineyard. "This year's harvest points to a promising outcome for 2017 Maryland wine."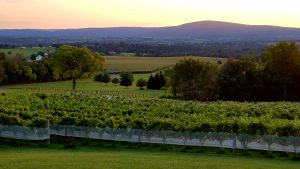 Maryland wineries must hope for ideal conditions year after year for grape harvest, and spend a lot of time and hard work with crop maintenance to optimize quality. "Every year is different," said Fiola, "and that's why it's so much fun and so challenging to make great wine in the East."
Maryland is becoming more widely known for its outstanding wines and unique flavors. After a great harvest paired with many talented winemakers, we're confident that 2017's harvest will bode well for Maryland wine.
Now, in addition to "Eat Local," you can add "Drink Local." Cheers!
-By Lauren Keyes
Maryland Wineries Association 
Hungry for more? Sign up for our newsletter and find us on Facebook, Twitter and Instagram.