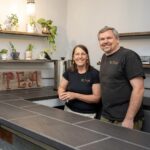 Embarking on a new and exciting adventure, Lori and Bob Baker traded their tech careers for the world of tea farming. Since planting their first tea plants in Spring 2014, they are now approaching the impressive milestone of the farm's 10th anniversary. Located in Woodbine, Maryland, Heron's Meadow Farm stands as the state's first tea farm, boasting approximately four acres of Camellia sinensis — the traditional tea plant.
"Neither my husband nor I had any farming experience prior to the purchase of the farm," Lori says. "I was an electrical engineer for 30 years and my husband, Bob, is in computer science. What attracted me to the farm was a desire for a change in lifestyle. I have always loved growing things and the farm allows me to pursue my passion on a grand scale."
Despite their lack of prior farming experience, Lori and Bob have managed to cultivate a thriving tea farm. Today, the farm is home to roughly 1,200 Camellia sinensis plants. "No one was attempting to grow tea in Maryland," Lori says. "We did an experiment and initially put five tea plants in the ground. They survived a couple of really cold winters which gave us hope that we could grow Camellia sinensis as a crop in Maryland. There have been many lessons learned along the way, but our tea fields are starting to take off and thrive."
In addition to tea, the Bakers have diversified their crop, establishing a small nut orchard and investing in cut flowers. They also grow some of the additives used to flavor tea such as lavender and mint.
Tea comes from the new growth of the Camellia sinensis plant, and it is the processing method that alters the look and flavor of the leaf to produce different types of teas like green, black, white and oolong. Along with an assortment of black, herbal and green teas, the Bakers produce two specialty teas that nod to their home state: a green tea, the Terrapin Green, and a black tea, the Black Raven.
Although the process of producing tea is extensive and involves steps like withering, oxidizing, rolling and drying, the Bakers' passion for tea and their dedication to their craft make it a worthwhile endeavor. "Bob and I have always loved to drink tea and we both love the tradition and experience of a good cup of tea," Lori adds.
Due to the youth of their tea plants, they also need to import some tea leaves to meet demand, but they are hopeful that as their plants mature, they will be able to meet the growing demands with their locally grown leaves.
The Bakers sell their teas, as well as their own pottery and honey, at their farm store and at a few local bed and breakfasts. "Buying local is extremely important for our environment," Lori says. "Buying local helps to sustain small farms and entrepreneurs, cuts back on shipping and trucking, and allows for fresher and healthier food to be brought to market."
From tech to tea, the Bakers have embraced their new lifestyle with open arms, pouring their passion into each cup of tea made from the leaves of Heron's Meadow Farm.
Hungry for more? Visit area farmers markets to buy local. Read more about beekeeping and honey. Learn more about tea.
Sign up for our newsletter and find us on Facebook, Twitter and Instagram.