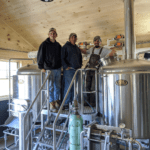 Located just five minutes off of I-95, the Hopkins Farm Brewery sits on a 400-acre family farm that makes you feel as though you're a world away from the bustling traffic of the interstate. The brewery uses the grains that the Hopkins family grow to make their fresh farm-brewed beers.
David and Michele Hopkins run Hopkins Produce, the century-old Harford County farm. "In addition to growing produce, like sweet corn, tomatoes, melons and soybeans, we were already growing certain grains as winter cover crops that could go into the malting process," says son Aaron. "After working in the brewing industry for years, I started Chesapeake Malting Company to process the grains we grow to sell to local breweries."
The family agreed it was time to get into the brewing business themselves. From managing beer production and staff to coordinating events and social media, Aaron's parents, aunts and uncles, Katie and Daniel Hopkins and Alice and Mark Puckett, wife Alison and cousin Mitch, and brewery manager Lev Shellenberger, all play an integral part of running a smooth operation. Now, Hopkins Farm Brewery manages a brew house that produces an array of ales and lagers on 16 different taps — all brewed starting with the farm's own barley.
"Barley is the main malted grain in beer and also our main focus when it comes to small grains on the farm," says Aaron, who is the head brewer. "We plant 20 to 30 acres of winter barley right here on the farm around early October to be harvested in June. Depending on the year and crop, we may yield 75,000 to 100,000 pounds of barley."
According to Aaron, a 100,000 pound yield of raw barley roughly translates to 75,000 pounds of finished barley malt that is processed at Chesapeake Malting Company. An average beer at the brewery uses around 500 pounds of barley malt to produce a 300-gallon batch of beer. That batch will pour nearly 2,400 16 ounce drafts.
In addition, the Hopkins have a small hop yard that produces enough hop cones for a seasonal brew made with ingredients exclusively from the farm. Hops help keep beers fresher for longer, help beer retain a head of foam, and add aroma, flavor and bitterness.
"We have also used sweet corn and cantaloupe grown at Hopkins Produce in a few seasonal offerings," adds Aaron. "Locally, we have sourced cider, strawberries, coffee, peaches and hops. Later this year, we are hoping to incorporate local raspberries and beets into some special brews."
The tasting room welcomes visitors to the brewery. It features soaring timber frame construction and reclaimed barn wood and stone in its bar and walls evoking a classic feeling much older than its two-year-old roots.
The venue is family-friendly offering year-round events and tons of open space to spread out and enjoy time with friends and family, and even share a beer with the Hopkins.
Hungry for more? Learn more about another Maryland farm brewery. Visit breweries across the state.
Sign up for our newsletter and find us on Facebook, Twitter and Instagram.