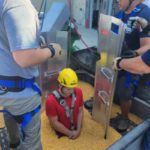 The large metal grain bins that dot the rural landscape may look benign, even picturesque. Yet they can pose a serious threat to farmers and grain handlers. In just five seconds a person who falls in a grain bin can become entrapped in the grain unable to free themselves.
"Farming is one of the most dangerous occupations," says Steve Walter of H&S Farms in Hughesville whose farm grows 1,400 acres of crops including corn, soybeans, wheat, sweet corn and more. "And that's a good reason to call attention to grain bin safety."
These bins store grain, such as corn, barley, wheat and soybeans, from time of harvest until it's used as feed or sold to the local grain elevator. Cylindrical in shape, they can hold from 1,000 to a few million bushels. At times, workers must enter a grain bin to break up clumps or clogs in order to get the grain to flow.
There are a number of ways a worker can become entrapped. The auger that moves the grain can create a funnel of flowing grain that can pull a worker knee deep within seconds. A grain bridge collapse occurs when a crust-like surface forms from hardened grain, then breaks and the worker plummets into the grain. An avalanche can occur if the grain becomes stuck on the walls of the bin, and a worker stands inside the bin to dislodge it. One foot of grain weighs approximately 300 pounds, leaving it nearly impossible for the worker to break free by themselves.
"It only takes seconds, or a simple mistake, for an adult to sink in the quicksand-like flow of grain and become fully entrapped or engulfed," said Brad Liggett, Nationwide's president of Agribusiness. "Adding to the risk is a lack of rescue equipment available to local fire departments and trained emergency responders who are called for help when a worker becomes trapped."
The United States averaged about 35 reported grain-handling incidents per year from 2005 to 2015, about 60% to 70% of which were fatal, according to Purdue University. The actual number of entrapments is likely a third higher because many non-fatal incidents are never reported.
To help prevent these accidents, the Maryland ag community partnered with Nationwide and the National Education Center for Agricultural Safety (NECAS) to provide lifesaving resources to rural America's first responders. Eight Maryland fire departments were awarded with rescue tubes and hands-on training this year to prepare them to respond when local grain entrapments occur.
The comprehensive training sessions include classroom education and rescue simulations using a state-of-the-art grain entrapment simulator and the rescue tubes, which are loaded onto 20-foot trailers and able to hold about 100 bushels of grain each. Through this training, emergency responders are better able to understand the pressure faced by farmers entrapped in the grain bin, and real-life experience on how to properly use the lifesaving equipment that they received.
The following Maryland fire departments were Grain Bin Safety awardees, thanks to the commitment to safety of the Maryland Soybean Board, Maryland Farm Bureau, Maryland Grain Producers Utilization Board and Farm Credit, making these resources available to protect Maryland farmers.
Allegany County Special Operations, Cumberland
Bel Alton Volunteer Fire Department and EMS Co 10, Bel Alton
Carroll County Volunteer Emergency Services Association, Westminster
Clear Spring Volunteer Fire Company, Clear Spring
Hebron Volunteer Fire Department, Hebron
Leonardtown Volunteer Fire Department, Leonardtown
Mechanicsville Volunteer Fire District, Mechanicsville
Preston Volunteer Fire Company, Preston
Hungry for more? Read about National Farm Safety and Health Week. Learn other farm safety tips. Watch this video about grain bins.
Sign up for our newsletter and find us on Facebook, Twitter and Instagram.