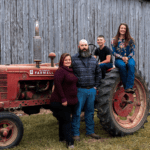 Life for the Cosgrove family took a dramatic turn one March afternoon. The family was beginning their normal seasonal field operations on Horsmon Farm, which grows a variety of produce and raises cows and pigs. That day, they were spreading lime on the fields to get the soil's acidity levels ready for their spring and summer crops, including hay and straw.
What started off as a typical day, quickly changed as Kaitlyn Cosgrove saw smoke coming from the family's barn. "My daughter, Kaitlyn, saw smoke and immediately yelled for me," recalls Cathy Cosgrove who operates Horsmon Farm in St. Leonard with her husband, JR. "I called 911 as I rushed toward the barn. While the phone was still ringing, I had to call out to my daughter to back away from the barn. I found out later she thought her dad was inside."
During the call, Cathy remembers telling the dispatcher 'now I see flames.' Then, the 'barn is fully engulfed' and to 'send every piece of equipment.' It's believed that the fire started in a workshop in their 60-year-old tobacco barn, which also serves as equipment storage, straw bale storage and cattle shelter. "The shop area was insulated and sealed well. The fire was in the shop long enough to build up, and once it was able to break through to the rest of the barn, it went up very fast," Cathy adds. "We will never know the cause of the fire, but we are very fortunate that everyone was safe."
The family not only lost their barn, but 1,000 bales of sellable straw, various equipment, including three tractors, a truck and loads of tools. Although they do carry insurance, it didn't cover all of the loss. "We had the barn insured, but with the cost of materials that have skyrocketed in the last few years, it is not enough to build back what was lost," Cathy says. "Some of the equipment inside the barn was insured. But again, some were older pieces that do not have high resale value, but they had a high value to us because they were our family heirlooms."
Plus, there were a few things that were extremely important to Cathy's son that were destroyed. "My 13-year-old son, Wesley, lost his International 884 tractor and his 1979 Ford F-150 truck that he was restoring with his dad. Both of these, he either purchased with his own money or purchased many of the replacement parts. So, I decided to set up an online fundraiser for him, and it's been successful." Wesley was able to purchase a replacement truck to restore, and is still on the lookout for the right tractor.
The community also stepped in to provide additional assistance. Close friends held a fundraiser at Mrs. Moo's Corner ice cream shop to raise money to help rebuild the farm. "The outpouring of support from family, friends, customers, neighbors and even people we don't know has been amazing," Cathy says. "I had people asking the day of the fire how they could help. At that time, I didn't realize how much we would need the support."
An important part of this fourth generation farm is their educational activities and tours that Cathy was worried could be cancelled due to the fire. But, the family decided to move forward and is hosting their annual spring event with egg hunt, petting zoo, farm trail, bunnies and more. "It is very rewarding for me to see my customers enjoying what we have worked so hard to accomplish. The most important part is encouraging kids to stay in touch with agriculture," Cathy says. "They need to have an understanding so they can make educated decisions in the grocery store, and possibly on legislative matters that affect agriculture."
It's their love of the farm and the love from their community that will see this farming family through this tragedy and on to greener pastures.
Hungry for more? Find out about Horsmon Farm's produce and meat membership program, farm stand and farm activities. Read more about soil. Learn how to put lime on your lawn.
Sign up for our newsletter and find us on Facebook, Twitter and Instagram.