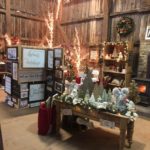 Dreamland Christmas Tree Farm stretches 35 acres in Frederick County. On about 8 acres of that land Christmas trees abound. The farm's owners and first generation tree farmers, Brian and Dawn Riesett, had a dream in mind when they began this niche business in 2004. "We wanted to honor the birth of Jesus and share the season with others. I just love Christmas," Brian says.
During the inaugural year of the farm, the Riesetts planted about 100 trees. Eighteen years later, they planted 40 times more. "We have grown Canaan fir, concolor fir, Douglas fir and Norway spruce, but have stopped planting Norway and Douglas as they get too many diseases," he says. Instead of variety, the family farm strives for quality and now specializes in growing Canaan and concolor fir trees. Concolor fir is also commonly called white fir.
The growing process begins with the spring planting — way before Christmas tunes hit the airwaves. The trees that are planted this year will take from seven to 10 years to get to a salable size. If there are any heavy losses in the summer, due to instances like pest pressure or too little or too much rainfall, Brian may do a small planting in the fall to replace dead trees. "A Christmas tree farm is a lot more work than you might think. It takes a countless amount of time to mow the grass, shear the trees, and grow a Christmas tree that looks good enough to be 'the one,' " Brian says.
Dreamland is a cut-your-own farm, but they do supplement their stock with pre-cut trees grown elsewhere. "We simply cannot keep up with demand and cannot grow trees fast enough. We have grown our business simply by word of mouth and we sell out every year," he adds.  
Brian adds that Christmas trees are tough to find right now. "The buyers from the big box stores are offering wholesale farmers more money for the trees, which makes it difficult for the little guy to access that market," he adds. "Many farms these days cannot find pre-cut trees to supplement their stocks."  
In addition to the experience of discovering the perfect tree, Dreamland has a restored antique barn with a large stone fireplace that serves as a Christmas shop. "Here, we sell crafts, wreaths, live greens, and a lot more," Brian says. "We are proud to feature local vendors who bring in crafts and artwork."  
At Dreamland, Brian and Dawn have created a magical holiday experience from cutting the tree, shopping for gifts and trimmings, and finishing with a cup of warm cheer by the fireplace. "Once you try us, just about everyone comes back and they tell others," Brian says. "We hear it all the time, 'it's just like a Hallmark movie.' "
Hungry for more? Here are some tips to care for your fresh Christmas tree. Read about another Christmas tree farm in Maryland. Watch this video on the importance of maintaining a well-hydrated tree.
Sign up for our newsletter and find us on Facebook, Twitter and Instagram.