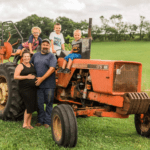 Meredith Null grew up in Olney, Maryland — not a likely place to find sheep. "Originally, I joined the 4-H rabbit club in Montgomery County because I wanted a pet rabbit and my mom insisted I join so I could learn how to take good care of him," Meredith says. "I met some friends that raised sheep and, after a lot of persuasion, I talked my mom into two sheep, which lived in the backyard of our suburban home."
Keeping up her breeding program throughout college, Meredith had an established flock of about 20 sheep when she married her husband, Dan. "My husband grew up on a dairy farm. His parents had sold their cows back in the 1990s before he had the opportunity to take over," she says. "We both had farming in our hearts — but we were landless!"
To make their dream of land ownership come true, Meredith's mother Connie helped them find and purchase the land in Mount Airy where the farm is now. Although it was also her dream to retire on the farm, soon after the deal closed, Connie found out she had an aggressive form of cancer and passed away shortly after. "My husband and I built our family and BlueLand Farm with her guiding us from Heaven," she adds.
The Nulls along with their young children, Jackson, Ted, Everett and Vivian, all participate on the farm. Together, they raise about 60 sheep and 15 cattle on an a rotational grazing system on their 54-acre farm. Rotational grazing is when only one portion of a pasture is grazed at a time while the remainder of the pasture rests and regenerates. To accomplish this, pastures are subdivided into smaller areas, referred to as paddocks, and the livestock is moved from one paddock to another.
"I think more people being exposed to lamb is great! It's a protein that often gets overlooked in the U.S. because a majority of the lamb you find in grocery stores comes from Australia or New Zealand," she says. The couple sells their beef wholesale and lamb off the farm and in several stores throughout the state through Maryland Lamb Co-op.
While there are about 60 breeds of sheep in the U.S., the Nulls raise Bluefaced Leicesters (BFL), Polypays and BFL Polypay crosses. These sheep can graze delicate riparian zones without causing erosion or damage that would be caused by larger animals or equipment. And, they grow well as a meat animal and have marketable hand spinner fleece. "We sell the pelts off the farm and online, and we take our fleeces to the Maryland Sheep and Wool Festival," she says. "We are in the process of having some yarn made and that should be ready sometime later this year."
With over 30 years of farming experience, Meredith knows the importance of buying local. "I think buying local food, as well as fiber, makes our food systems stronger and more sustainable. Instead of placing products on a truck and using fossil fuels to haul them across the country, we are supporting local businesses, like the butcher shop and farmers markets, and making food available for people at all price points," she says.
And to think that this flourishing farm all started from one woman's love of her pet rabbit.
Hungry for more? Learn more about Maryland's sheep. Read about 4-H opportunities for youth to engage in STEM, Civic Engagement, Healthy Living and Agriculture activities. Find out how this first generation farmer built her farm.
Sign up for our newsletter and find us on Facebook, Twitter and Instagram.